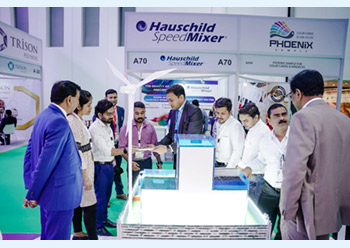 Visitors flocked to get a peek into the latest innovations.
The inaugural edition of the Gulf Coatings Show 2022 ended on a successful note at the Expo Centre Sharjah with a remarkable turnout as international visitors, businessmen, traders, manufacturers and suppliers flocked to the venue to get a peek into the latest coating innovations, equipment and technologies exhibited by major international companies.
The leading exhibition for the international paint and coatings industry was organised by NürembergMess from October 17 to 19 with the support of the Sharjah Chamber of Commerce and Industry.
With the sucessful hosting of this event, NürembergMess has expanded the flagship European Coatings Show – a leading exhibition for the international paint and coatings industry held every two years in Nuremberg, Germany – into the Middle East.
Thirty exhibitors from seven countries, including key players like Covestro, Evonik, VMA Getzmann and Wilhelm Niemann, were at the event networking with regional experts and SMEs.
It featured high-calibre presentations on relevant topics by international speakers and keynotes on topical and pressing issues in the coatings industry with the main focus on the trends and perspectives as well as sustainability issues with special reference to the Middle East.
The three-day event was witness to a host of conferences and lectures by leading industry experts and specialists from many countries who tackled topics and issues with relevance to technology and sustainability in paints, coatings and building chemicals industry.