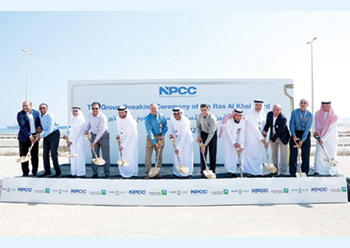 Officials break ground on the facility in Ras Al Khair.
Abu Dhabi-based National Petroleum Construction Company (NPCC) has announced the ground-breaking for a new 400,000-sq-m fabrication yard in Ras Al Khair port located in the Eastern Province of Saudi Arabia.
NPCC, a subsidiary of National Marine Dredging Company, said the new yard, which will accommodate the fabrication of jackets and platforms, is a state-of-the-art facility that will include automated workshops and an advanced marine system.
The Abu Dhabi group said it will provide fabrication, maintenance, rigging and erection services, and be operational between all three phases of construction.
The first phase of the project will be completed by the third quarter of 2023, it added.
According to NPCC, the ground-breaking ceremony was attended by senior representatives from National Marine Dredging Company (NMDC), Saudi Aramco and Saudi Ports Authority Mawani.
Ras Al Khair is Saudi Arabia's newest industrial port that serves more than 100 manufacturing projects and has an area of 23 sq km and 14 berths equipped to handle general and bulk cargos.
The capacity of the fabrication yard is expected to reach 60,000 tonnes per year by the end of the final phase in 2026.