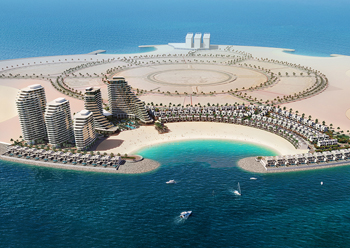 Danah Bay ... to be built at Al Marjan Island.
Dubai Investments, a leading investment company listed on the Dubai Financial Market (DFM), has launched Danah Bay, a vibrant, mixed-use beachfront community and lifestyle destination on Al Marjan Island in Ras Al Khaimah overlooking the Arabian Gulf.
A freehold premium beach community, the AED1 billion ($272 million) flagship project sets a new standard for Ras Al Khaimah, said Dubai Investments.
Spanning an area of approximately 90,000 sq m area, the project includes luxury townhouses and villas, residential waterfront apartments, an upper scale four-star hotel resort and community retail.
Danah Bay offers a variety of freehold residential options including two-bedroom townhouses with roof terrace, three-bedroom villas and four-bedroom beachfront villas along with waterfront residential apartments.
Meanwhile, Abu Dhabi National Hotels (ADNH) has announced plans to build a 1,000-room luxury resort on a one-million-sq-ft area also on Marjan Island, at a total investment of AED1 billion.
In this regard, ADNH has sealed a deal with Marjan, the master developer for freehold land to acquire a prime plot on the island for the project.
"This luxury resort will complement our existing portfolio across Abu Dhabi and Dubai," CEO Khalid Anib said.
"Marjan continues to establish high-end projects in the hospitality, leisure and sports sectors to support the destination strategy of the emirate. The investment by ADNH to develop a luxury resort in Al Marjan Island reflects its confidence in the potential of the destination and will catalyse additional investments," remarked Marjan CEO Abdulla Al Abdooli.