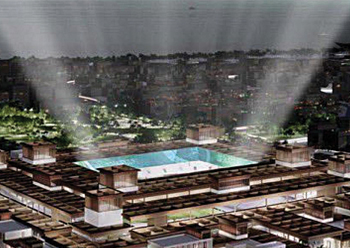 The stadium is set to be one of four major landmarks of the Jeddah Central Project.
Jeddah Central Development Company (JCDC), a subsidiary of Saudi sovereign wealth fund PIF, has signed up world-renowned firm GMP International Spain GMBH and urban development consultants Khatib and Alami for providing the design and enginerring of the stadium at Jeddah Central Project. It has also appointed Cruise Saudi to design the new international luxury cruise terminal for the development.
A SR75-billion ($20 billion) project, Jeddah Central will be implemented on a 5.7-million-sq-m strategic area in central Jeddah. The project, which has a stunning waterfront location with a 9.5-km shoreline, will boast a world-class marina to accommodate local and international yachts in addition to 2.1 km of sandy beaches.
GMP International is a leading architectural consultancy with over 50 years of experience and has built internationally acclaimed stadiums in South Africa, Russia, and Brazil, as well as sports cities in China and other countries.
The engineering work will be done by Khatib & Alami, a multidisciplinary urban and regional planning, architectural and engineering consulting company with five decades.
The stadium's design is unique to Jeddah and is based on international standards that highlight the sports, entertainment, and cultural destination. With its open spaces, green parks, world-class pitch, and a dynamic platform that brings together international events, the stadium will promote a healthier and more active lifestyle in the city's community.
The stadium is set to be one of four major landmarks of the Jeddah Central Project, the other three being a museum, an opera house, and an oceanarium.
JCDC Chief Development Officer Paul O'Brien said the construction of the new landmarks will stimulate the efforts to attract local and global quality investments, which will contribute to the development and operation of the Jeddah Central Project's unique facilities. This will in turn pave the way for investors to participate in the creation of new promising economic sectors in an attractive environment in Saudi Arabia, he added.
The landmark development will also feature a marina and luxury cruise, which will be designed jointly by JCDC and PIF-owned Cruise Saudi.