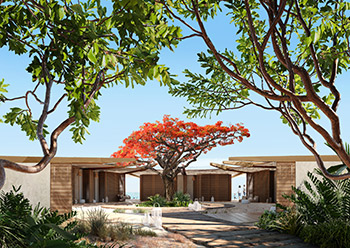 Shura Island will host 11 hotels and resorts.
The Red Sea Development Company (TRSDC), the developer behind the world's most ambitious regenerative tourism project, has announced that it has entered into a joint venture (JV) agreement with Almutlaq Real Estate Investment Company (AREIC), a subsidiary of the Al Mutlaq Group (AMG).
Under the agreement, valued at over SR1.5 billion ($400 million), the two companies will develop Jumeirah The Red Sea, a 159-key luxury resort situated on the Red Sea destination's hub island, Shura, currently under construction and expected to open in early 2024.
Shura Island forms part of the first phase of development, and will comprise 11 luxury, premium and lifestyle hotels and resorts, residential units, a championship golf course, a 118-berth marina, and a comprehensive retail, dining, and entertainment offering.
The strategic partnership marks the first JV established by TRSDC.
While funding for Phase One of The Red Sea Project is secured and in place, the joint venture with AREIC highlights the strong interest and appetite from the private sector to participate and invest in Vision 2030, according to TRSDC.
The Saudi developer stated that it is in parallel discussions with several other investors under a similar framework to invest in The Red Sea Project's commercial assets, including hotels and resorts, leisure, and retail and dining experiences.
Meanwhile, TRSDC has partnered with Dayim Equipment Rental, a full-service plant, machinery and vehicle (PMV) provider in the region, to set up a carbon-neutral, on-site operational hub and provide managed services for The Red Sea project. Leveraging Dayim's green solutions, this hub will be one of the most carbon-neutral of its kind.