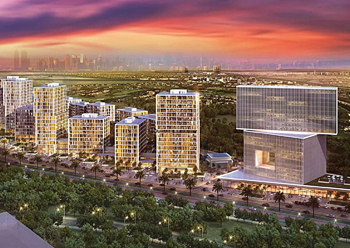 Midtown comprises six districts spanning 24 buildings, with a built-up area of nearly 5 million sq ft.
UAE-based Deyaar Development has kicked off work on the third and fourth phases of its integrated flagship community development, Midtown, located in the up-and-coming neighbourhood of Dubai Production City near Sheikh Mohammed Bin Zayed Road.
Midtown comprises six districts spanning 24 buildings, with a built-up area of nearly 5 million sq ft. With more than 2,000 units – ranging from studios to three-bedroom apartments – it offers a multitude of amenities designed to prioritise community living in a family-friendly environment.
To date, Deyaar says it has concluded 50 per cent of the Midtown development through completing and delivering the first two districts, Afnan and Dania. Constituting a total of 13 buildings and more than 1,200 apartments, the two districts are now home to over 554 families, says the Dubai developer.
Giving an update on the project's progress, Deyaar says work is under way at its third district 'Noor' and is due for completion, in Q4 2022. Noor district boasts seven buildings with studios, one-, two-, and three-bedroom apartments, a host of retail and food and beverage (F&B) options, sports facilities and vast green spaces, among other amenities to serve the needs of the customers.
The third and fourth phases will add more than 32,000 sq ft of retail space to the development.
With soil testing completed and initial earthworks currently under way, contracts valued at Dh370 million ($100.7 million) have been awarded to the primary contractor Gammon & Billimoria for the project.
CEO Saeed Al Qatami says: "At Deyaar, we take our commitment to providing affordable, high-quality residential and mixed-use developments very seriously. To this end, we designed Midtown to not only provide residents with an ideal home but to ensure that they could enjoy community living with all the basic amenities close to them."
"After the successful delivery of the first two phases, we believe this is the right time to start construction on the new districts. We have received excellent response and we look forward to completing yet another top-notch development under our flagship Midtown development as we continue to deliver value to Dubai's residents and business sector," he states.
Vice-President (Projects and Engineering) Khalid Ababneh says: "Designed to be an integrated community in Dubai Production City, Midtown boasts over 30,000 sq ft of retail space between the 'Dania' and 'Afnan' districts and encompasses an anchor supermarket, nursery, restaurants, ladies and gents' salons and a pharmacy."