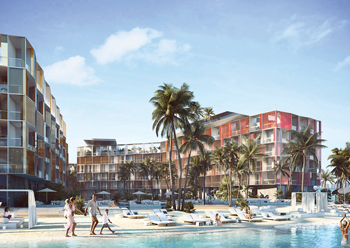 Heart of Europe Phase One will see the delivery of 2,000 units including mostly hospitality units in five hotels.
Leading property developer Kleindienst Group has announced that it is handing over the first of the 2,000 residential and hospitality units including floating villas, mansions and apartments within its $5-billion premium development, The Heart of Europe, in Dubai.
Once completed, the development is expected to become a sought-after destination in the Middle East hosting around 4,000 units spread across 15 hotels and resorts in a cluster of inter-connected six islands and a floating Lido Island about 4 km off the Jumeirah coast.
Construction of the project's innovative landmarks, including the Floating Seahorse Villas, Sweden Beach Palaces, Germany Island Villas, Honeymoon Island, Portofino Hotel and Côte d'Azur Resort is making good progress, with all the Phase One projects having topped out while finishing touches are being put to the exterior facades and interior décor.
And with handover of the units having commenced last month ahead of individual customisation, the Kleindienst Group says the prices for its mix of ultra-prime villas, mansions, floating villas and apartment units will now surge.
This brings the exclusive project in closer parity with the most sought-after property hubs in the world such as Monaco, London, Moscow, Geneva, Vienna and Paris where prime property prices can range between Dh59,000 up to Dh235,000 per sq m, says the Chairman Josef Kleindienst.
"Where the cost of a spectacular Floating Seahorse Villa was Dh20 million, it will now increase to €20 million (Dh90 million), while an ultra-luxury Beach Palace on the Sweden island will rise from Dh80 million to €80 million. Units in the Côte d'Azur section of the project will now cost €1.7 million instead of Dh1.7 million previously," he explained.
"We firmly believe that our prominence within the UAE's fertile hospitality and second home sector, alongside our world-famous assets and experienced management team, is a potent combination which will support the company's future growth and will further reward our investors," he added.
Kleindienst points out that determined construction progress has been made last year in spite of the challenges brought by the Covid-19 pandemic.
Construction of St Tropez has reached roof top level, according to the developer.
This is the fifth hotel of Phase One that is nearing completion and will recreate the environment and charms of the French Riviera town of St Tropez, with a private long beach, restaurants, promenade and luxury yachts and boats moored to serve visitors.