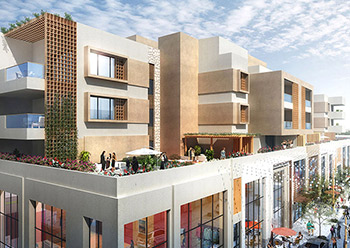 Al Liwan boasts a combination of commercial, entertainment and housing facilities.
Seef's Bahrain mixed-use development set for Q1 opening
Seef Properties, an integrated real estate development company in Bahrain, says work is in full swing at its mixed-use project, Al Liwan, which is scheduled for opening in the first quarter of 2021.
A 122,000-sq-m development coming up in the Al Hamala area of the kingdom's Northern Governorate, Al Liwan features a wide variety of restaurants, cafes and retail stores topped with 117 three-storey residential units that overlook stunning views.
It also includes a state-of-the-art cinema theatre, a family entertainment centre as well as open areas and boulevards, granting its residents the most memorable experience, says the developer.
Inspired by Bahrain's deep-rooted Arabian culture, the name Al Liwan reflects cohesion, unity and getting together, as it signifies the yard in the centre of old houses in this region.
Seef Properties CEO Ahmed Yusuf says: "Al Liwan is unquestionably a valuable addition to the tourist attractions in Bahrain, as it is the first multipurpose project of its kind in the country; portraying a distinctive architectural breakthrough and comprising a unique combination of entertainment and shopping elements, in addition to various restaurants and cafes."
A first-of-its-kind project in Bahrain, Al Liwan will boast a combination of topnotch commercial, entertainment and housing facilities, he states.
Al Liwan is designed as an outdoor mixed-use development with full access to vehicles, which makes it more of an urban development project with public landscaped spaces, all within a comfortable "village" family-friendly environment catering to all ages.
Samana Hills in Dubailand 65pc complete
Samana Developers, a Dubai-based real estate developer, has announced that 65 per cent of the construction work has been completed on its Dh100-million ($27.2 million) residential project, Samana Hills, ahead of schedule.
A five-storey apartment complex located near the Dubai Miracle Garden in Arjan Dubailand District, Samana Hills spans over a 100,000 sq ft and will house 205 apartments, including studios, one and two-bedroom apartments, says the UAE developer. The project saw 100 per cent completion of its superstructure three months ago despite the pandemic hardships, it adds.
According to Samana, the resort-themed residential project will house studio apartments starting from Dh399,000 ($108,600) and one-bedroom units from Dh599,000 and two-bedroom apartments from Dh849,000.
The apartment sizes in Samana Hills range from 360 to over 1,375 sq ft. The project features an infinity pool, sauna, steam, gymnasium, children's play area, shaded parking and smart-home technology. Samana Hills has been designed to the highest standards of quality yet is an affordable property asset.
Samana Developers has set a new benchmark of early project completion and handover preponement in spite of challenges, which is unprecedented in Dubai's real estate market when there are project delays and developers facing challenges, says CEO Imran Farooq.
"We are focused on steady and speedy construction works with stakeholder's commitment, resilience, intelligent construction management, and self-funding. That's how Samana Developers stays ahead of the game," he adds.
Aldar to sell two district cooling units to Tabreed for $262m
Leading UAE developer Aldar Properties has signed an agreement with National Central Cooling Company (Tabreed) to sell two of its district cooling assets on Abu Dhabi's Saadiyat Island for a total consideration of Dh963 million ($262 million).
Aldar had purchased a 100 per cent stake in Saadiyat District Cooling (SDCL) and an 85 per cent stake in Saadiyat Cooling (SCL) as part of a wider acquisition of assets from Tourism Development and Investment Company (TDIC) in 2018.
The transaction is expected to complete in the first quarter of 2021, unlocking an internal rate of return of over 40 per cent on the original equity investment by Aldar, who has actively managed the asset since its acquisition in 2018, says the Abu Dhabi developer.
SDCL and SCL provide district cooling to Saadiyat Island, home to the Louvre Abu Dhabi, and which is fast becoming a major cultural and tourism centre. Aldar is developing premier residential and mixed-use destinations on Saadiyat Island, including Al Mamsha and Saadiyat Grove, and owns extensive plots of infrastructure-enabled prime land on the island for future development.
Proceeds will be used to finance further growth of Aldar's diversified portfolio of high-quality income-generating property, it adds.