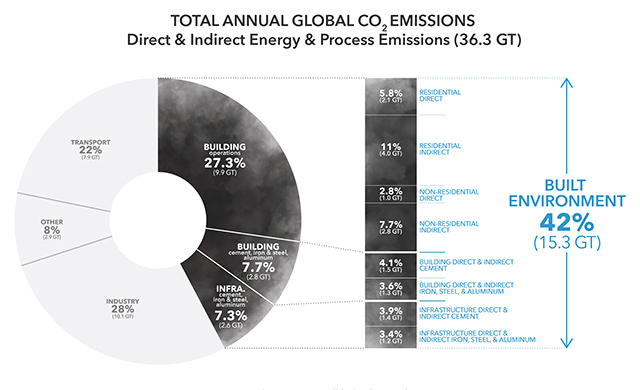 The global built environment is a major contributor to climate change. It is responsible for over 42 per cent of annual global CO2 emissions. This is due to the energy used to operate buildings and infrastructure, as well as the emissions from the materials used to build them.
And this staggering figure could only get worse if action is not taken now – given that over three quarters of the global urban infrastructure that will exist in 2050 is yet to be built.
That's according to a new report by Architecture 2030, a non-profit organisation that has been working to address the climate crisis for over two decades.
Of the total emissions, building operations are responsible for 27 per cent annually. However embodied emissions from just three materials – cement, iron/steel, and aluminium – for buildings and infrastructure are responsible for an additional 15 per cent annually, the report states.
The report is based on new aggregations of International Energy Agency (IEA) data, which indicate that the global exterior built environment's infrastructure and sitework impact has been underrepresented: these figures do not factor in the additional emissions from other materials extending beyond cement, iron/steel, and aluminium employed in buildings and infrastructure, it says. Additionally, the decisions made by architects, planners, and engineers also contribute to climate change. For example, neighbourhood density and configurations in our car-centric cities lead to increased vehicle tailpipe emissions.
In fact, UN-Habitat reports that cities and their urban inhabitants are responsible for 80 per cent of the world's total greenhouse indirect and direct emissions.
Architecture 2030 states that in order to accommodate the largest wave of building growth in human history, from 2020 to 2060, about 241 billion sq m of new floor area needs to be added – the equivalent of adding an entire New York City to the world, every month, for 40 years – doubling our existing building stock in just four decades¹. It points out that, in fact, 75 per cent of the global urban infrastructure that will exist in 2050 has yet to be built².
The good news is that low-carbon, nature-based solutions – that have been adopted hitherto for landscape architecture – are now gaining wide recognition among architecture and engineering organisations as well. According to the Nature Conservancy, a global environmental organisation, these ecological interventions can provide up to 30 per cent of cost-effective carbon drawdown that is needed by 2030. Nature-based solutions support climate mitigation, and enable co-benefits related to human and environmental health, economic prosperity, and biodiversity, the report states.
Architecture 2030 has joined hands with the research initiative Climate Positive Design to foster a comprehensive approach to addressing climate change impacts, carbon, and the exterior built environment (materials, buildings, landscapes and infrastructure).
Climate Positive Design aims to bring people together to reduce and remove greenhouse gas emissions from the atmosphere through the exterior built environment, while supporting biodiversity and healthy, equitable communities.
The partnership has recently launched new and updated resources and tools for design professionals, including content on concrete and steel in the Carbon Smart Materials Palette, calculating the carbon footprint and drawdown of landscapes in Pathfinder, and a wealth of design strategies in the Climate Positive Design Toolkit. By providing these comprehensive resources, it strives to empower design professionals in making more informed decisions.
The organisation has also worked with others in the built environment sectors in recent years, and their collective efforts have resulted in remarkable progress, generating innovative and creative solutions that have led to climate-positive outcomes, zero operating emissions, adaptive, resilient buildings, infrastructure, and communities.
"Designers wield significant influence and carry substantial responsibilities, ranging from macro-level planning and land use decisions to micro-level material selections," says an official for Architecture 2030. "The ongoing connection and integration of design professionals across disciplines such as architecture, landscape architecture, planning and engineering are underway and crucial for the successful execution of large and complex projects. Fostering collaborative efforts within the built environment community will contribute to shaping a sustainable future for the entire built environment."
1. International Energy Agency, "Global building sector CO2 emissions and floor area on the Net Zero Scenario, 2020-2050". 2060 floor area assumes projected trends would continue.
2. UN Environment.