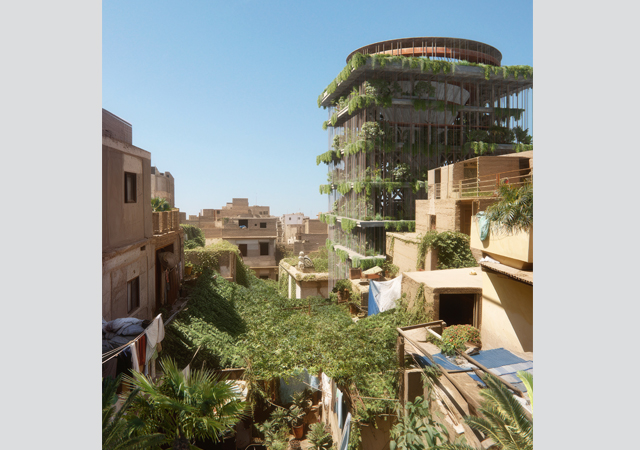 Probiotic Tower ... a repurposed water tower in Cairo.
Much of the ageing building stock that populates our cities' skylines has either passed into disrepair or has dropped so much in value because it is no longer attractive compared to the newly launched set of buildings. The UAE reports several unfinished or delayed hotel, commercial and residential projects experiencing financial difficulties, regulatory issues, or changing market conditions, adding to the ageing building conundrum.
In today's real estate climate, adaptive reuse has become a key strategy for revitalising economically obsolete or unfinished structures into thriving centres of a community. Not only does adaptive reuse make financial sense, but it also spurs redevelopment and is an effective strategy for revitalising neighbourhoods. It is a sustainable and economically viable approach to breathe new life into existing buildings and spaces, which already has had a transformative impact on communities in the UAE.
A large portion of Dubai's prime-located, residential, freehold stock is now more than 10 years old. Many buildings in Dubai Marina, Jumeirah Beach Residence, Palm Jumeirah, Arabian Ranches, Emirates Living, The Greens, Jumeirah Lakes Towers and the early affordable communities like International City and Discovery Gardens fall into this category. Myriad developments are currently dormant.
On the other side of the coin, many of the UAE's historic buildings have been repurposed through adaptive reuse. Known for its rapid urban development, the UAE has recognised the value of preserving the country's rich cultural heritage, this includes traditional homes, forts, and historic commercial structures.
Adaptive reuse projects in historic districts like Al Fahidi in Dubai and Al Ain's Old Town have breathed new life into these areas. They now offer a blend of heritage preservation, tourism, and community engagement. Restored historical sites attract tourists interested in experiencing the UAE's history and culture which has often led to increased foot traffic in surrounding areas, benefiting local businesses.
Many adaptive reuse projects have transformed old warehouses, factories, and industrial spaces into cultural hubs, hosting art galleries, theaters, and creative spaces. For example, Alserkal Avenue in Dubai, a former industrial complex, is now a thriving arts and culture district. By preserving historical buildings and neighbourhoods, adaptive reuse contributes to a sense of continuity and belonging within communities. It fosters a connection between the past and the present, reinforcing cultural identity.
Adaptive reuse often proves more cost-effective than demolition and new construction, saving resources and money. It also generates economic opportunities for local businesses, craftsmen, and artisans involved in restoration and maintenance.
A recent adaptive, reuse project Gensler has worked on in Cairo was the Probiotic Tower, repurposing the water tower in Cairo as a means of climate change adaptation. The Probiotic Tower Project aimed to show how the transformation of existing buildings can also positively address climate change in cities that are sorely lacking green space and public facilities.
Today there exist several structures that were essential to the urban landscape of the time but are now outdated. The water tower, for example, was designed to elevate and store water. The pressure created would supply water to nearby neighbourhoods; however, water towers are now rarely used due to the widespread adoption of pressurised reticulation systems. These kinds of changes in the market must be recognised as an opportunity. Architects should not only adapt obsolete buildings to reduce the carbon footprint of building new, but also consider ways to repurpose them into green communal hubs that could help heal the urban landscape and return a sense of balance to its surrounding natural environment.
What Gensler did with the Probiotic Tower was, at the core, insert a large algae bioreactor tank that actively absorbs carbon dioxide from local sources within the host neighbourhood.
The bioreactor serves a dual purpose by absorbing carbon from the surrounding area and producing a carbon-neutral biofuel for the building's occupants. The tower also employs facade algae panels on the south-facing sides of the structure to enhance the absorption of carbon dioxide from the local atmosphere. This allows community members to repurpose old, unused infrastructure, correcting past mistakes and creating a carbon-negative building. The project has subsequently been awarded the WAFx prize for future projects and is shortlisted for other categories at the World Architecture Festival.
Now more than ever, sustainability needs to be at the forefront of development. Architecture 2030, the non-profit, non-partisan, and independent organization established in 2002 in response to the ongoing climate emergency, shows that the building industry generates nearly 50 per cent of annual global CO2 emissions. Together, we have a collective responsibility to minimise the impact of the built environment on climate change. With adaptive reuse, we're minimising the carbon associated with making buildings, including material extraction, manufacturing, transportation, and construction — and instead utilising the embodied carbon of existing buildings.
Adaptive reuse stands as a strategy to significantly reduce demolition, carbon emissions, and waste, and preserve what already exists. The greenest building is one that's already built. Retrofitting old buildings with modern technology and sustainable features aligns with the UAE's sustainability goals. Adaptive reuse projects typically prioritise energy efficiency and green building practices, contributing to environmental sustainability.
As designers and architects, we have the privilege and responsibility to make the most of our existing building stock. After all, according to the World Economic Forum, 80 per cent of the buildings that will exist in 2050 stand today. By transforming outdated buildings into viable new uses, we can convert properties that were once detractors into thriving contributors that align with the desired user experiences of today's age.
* Gensler is a global architecture, design, and planning firm with 50 locations across Asia, Europe, Australia, the Middle East, and the Americas.