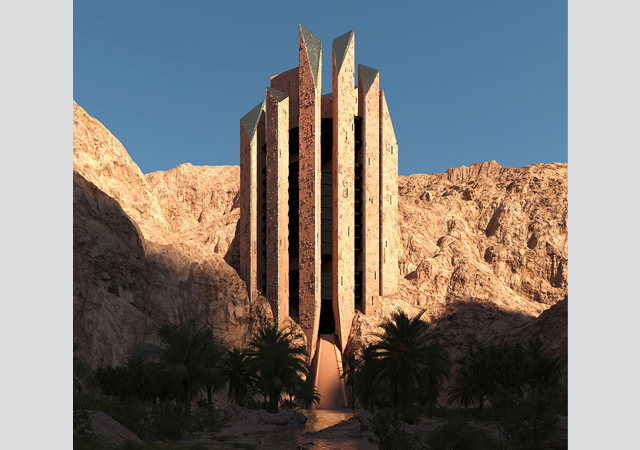 Oasis hotel ... designed by Cucinella.
Neom last month unveiled its latest tourism destination Leyja, a stunning new ecotourism destination steeped in history and mythology.
Leyja extends from the Gulf of Aqaba coast and its alluring waters in the west and winds inland to form a magnificent natural valley carved between 400-m-high mountains that have been crafted over long centuries. Its dramatic mountain landscapes of soaring peaks and jagged cliffs offer visitors endless opportunities for adventure, from guided wadi walks and hiking trails to mountain biking and climbing.
In keeping with Neom's commitment to sustainability, 95 per cent of Leyja will be preserved for nature. The development will seamlessly blend into the landscape, thanks to innovative ecological design and construction techniques.
Leyja's three hotels have been intelligently and sensitively designed by world-leading architects to complement the surrounding nature, operate sustainably, and provide distinct experiences to their guests. The three properties will offer 120 elegant boutique rooms and suites, each with 40 keys.
The first property is tailor-made for adventure experience. Designed by Chris van Duijn, the adventure hotel is a deconstructed marvel that ascends the wadi walls like a staircase, tracing the topography with minimal disturbance to the terrain. Its unique location, folded into the cliff top and valley sides, is designed for those seeking rock climbing and other high-octane experiences.
The second property is an oasis hotel – designed by Mario Cucinella, that rises from the rock to sit prominently at the heart of the wadi's largest oasis. This enchanting gateway, ascending from the canyon to the entrance of the property, is a journey of discovery and exploration of the valley that continues beyond, offering unrivalled views of the valley.
The third property is an immersive wellness retreat, designed by Shaun Killa, that promotes longevity. Its high-tech, reflective façade mirrors the surrounding beauty and valley walls, creating a seamless connection between the property and its natural environment. The wadi's natural passage runs through the centre of the property, providing visitors with a unique and interactive experience.
Once developed, Leyja will offer an extensive selection of refined experiences and activities, including fine dining and contemporary restaurants. Wellness facilities and rooftop infinity-style pools across the three properties are also key features.