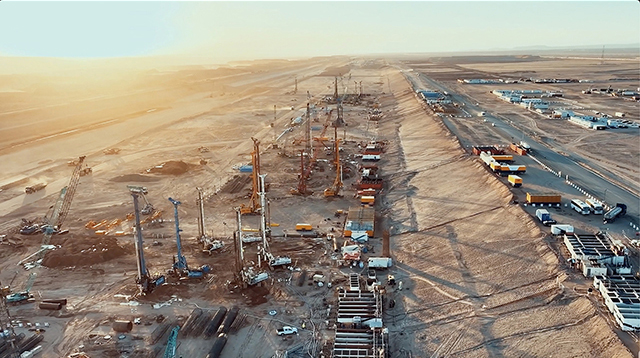 Piling work under way on The Line.
Saudi Arabia's $500-billion Neom megacity project is creating a crescendo effect in the market with the intensity of announcements – including project updates, hospitality and technology partnership deals, building contracts and recent launch of its fifth region Leyja – reaching new heights.
Neom, which means "new future", is part of Saudi Arabia's Crown Prince and Deputy Prime Minister HRH Mohammed bin Salman bin Abdulaziz's Vision 2030 plan to diversify the kingdom's economy away from oil. The plan, when first announced in 2017, to turn a remote region of the country into a high-tech semi-autonomous state that re-imagines urban life seemed bold and over-ambitious. Yet, today the futuristic city is creating a lot of excitement in the market and is also seen as a potential game-changer for the Saudi economy and a proving ground for the future of humanity, driven by innovation.
Construction is gaining pace exponentially on what is described as one of the most anticipated and intriguing ambitious projects in the history of city building.
Taking shape on the Red Sea coast in the northwestern Tabuk Province of Saudi Arabia, over a planned area of 26,500 sq km – roughly the size of Belgium – Neom last month reported remarkable progress with large-scale investments on its four previously announced components.
Work on The Line, a cognitive linear city that represents the future of urban living, is moving fast, as is on the centre for advanced and clean industry, Oxagon; the luxury island destination Sindalah; and the year-round mountain destination Trojena, said the latest update video posted by Neom last month.
It said more than 3,000 employees from 90 countries are working for Neom, while 60,000-plus construction workers are engaged on various sites. Major infrastructure projects such as roads, utilities and a hospital are already built in Neom, it said.
Highlighting other major investments, the update said $2 billion will be invested in the Port of Neom and the first container terminal will be open in the area in 2025.
Neom has already raised $6.1 billion to build the world's largest green hydrogen plant to produce green ammonia at scale in 2026 through Neom Green Hydrogen Company, a joint venture with Air Products and Acwa Power. It also pointed out that one of the biggest social infrastructure public-private partnerships globally will see $5.6 billion invested in building 10 residential communities to house 90,000 people.
Late last month the developer of the futuristic destination announced the setting up of its strategic investment arm, the Neom Investment Fund (NIF), to support the buildout and development of the project's 14 priority sectors and deliver long-term value while enabling creation of jobs.
The wholly-owned subsidiary will invest globally through mergers and acquisitions and venture capital in technology startups, with a clear focus on pioneering growth companies and next-generation industries. NIF will also develop joint ventures and partnerships with large multinationals, institutional investors and innovators within Neom.
As a first initiative, NIF announced new investments in companies including US-based electric seaglider manufacturer Regent, global autonomous driving company Pony.ai, the supersonic airliner developer Boom Technology, the US 'future of food' firm BlueNalu and Blockchain gamer Animoco from Hong Kong.
Nadhmi Al-Nasr, CEO of Neom, said: "The vision of Neom is to address global challenges that redefine livability, conservation and business. As Neom's strategic investment subsidiary, NIF will play a critical role in converting Neom's vision to reality."
As a catalyst for change, NIF actively seeks deep partnerships with like-minded investors and bold entrepreneurs working on the world's most complex problems, in line with Neom's vision. It aspires to create regional and global champion companies across Neom's 14 economic sectors by investing in commercially viable projects and 'moonshot' ideas enabled by cutting-edge technologies. To accelerate the change, NIF will focus on developing investment opportunities for the private sector to participate in and will directly invest to unlock solutions that would be piloted and scaled-up in Neom, and eventually exported to the world.
With Neom being one of the largest and most complex projects the world has seen, logistics is another major challenge the developer has aimed to address. Hence, Neom envisions unparalleled demand for construction logistics through to December-end 2031, with sustained growth in non-construction logistics thereafter. In view of this, Neom has entered into a joint venture with DSV, a global supply chain solutions leader, to set up a $10-billion exclusive logistics joint venture to provide a full suite of ground, sea and air logistics services to support the development of the ambitious projects taking shape in the futuristic city.
Under the agreement, the joint venture will provide end-to-end supply chain management, development and investments in transport and logistics assets and infrastructure as well as transport and delivery of goods and materials within Neom.
Neom will hold 51 per cent of the joint venture with DSV holding the remaining 49 per cent.
In addition to its impact on the logistics landscape, the venture is expected to boost the Saudi economy, through infrastructure development and creating more than 20,000 job opportunities, it said.
In June, Neom had announced that it had finalised contracts with investors for the first phase of its residential communities' expansion, a social infrastructure project that will house the region's growing workforce. The preferred bidders for the first phase of the residential communities comprise leading Saudi Arabian companies, Alfanar Global Development, Almutlaq Real Estate Investment Company (AREIC), Nesma Holding Co, and Tamasuk, involved via two separate partners: Al Majal Al Arabi Group Company and the Saudi Arabian Trading and Construction Company (Satco).
The agreement paves the way for more private sector participation in the development of Neom's infrastructure. The second phase of the temporary residential project is expected to be floated on the market in the coming months. In addition to contract awards, Neom is reviewing interest from investors with plans to shortlist pre-qualified participants.
In an indepth interview with Gulf Construction, Philip Gullett, Executive Director - Region Head, Trojena, eloborates on work involved in shaping the unique and futuristic mountain destination (see Page 10).
Meanwhile, in Part Eight of his series "Neom is Real" posted on LinkedIn last month, the project's Chief Operations Officer Giles Pendleton said the marina, which forms a component of The Line, is starting to take shape and piling is looking to commence on the next modules of the development.
Innovative construction technologies are being used to expedite work on the project. For instance, Enowa, Neom's energy and water company, has piloted helicopter-aided construction for the installation of high-voltage transmission line towers, which are part of its mandate to build a 100 per cent renewables-based energy system.
A first for Saudi Arabia, the initiative involves airlifting individual tower parts to the base of the transmission tower in the Neom mountains, where they are assembled, removing the need to build carbon-intensive access roads for trucks, cranes and other heavy equipment, according to Neom. Enowa delivered the project in partnership with Saudi Electricity Company, Al Sharif Group Holdings, Helicopter Express, and Al Rushaid Group.
The Line
Piling work continues on the modules that make up The Line, a 170-km belt of hyper-connected future communities which aims to redefine the concept of urban living with no roads, cars or carbon emissions.
The cognitive city is designed as a modular vertical city comprising two mirror-clad linear buildings that are 200 m apart and running parallel for 120 km across coastal, mountain and desert terrain starting in the west at the Gulf of Aqaba, continuing through the Sharma Valley and terminating at the Neom International Airport within the upper valley region.
The two buildings, which rise up to 500 m, will be connected via walkways, and a high-speed train that will run underneath them. The Line also boasts concept designs such as integrated vertical farming, a marina for yachts, and a sports stadium built up to 305 m above ground.
The modular city, which represents a new approach to urban design, comprises 135 modules that layer city functions vertically while giving people the possibility of moving seamlessly in three dimensions (up, down or across) to access them. Each module contains eight buildings founded on large-diameter bored piles. Different from just tall buildings, this concept layers public parks and pedestrian areas, schools, homes and places for work, so that one can move effortlessly to reach all daily needs within five minutes.
Earlier this year, Neom signed up three global consultancy majors as delivery partners for The Line. Under the deal, Atkins, Parsons as well as US-based engineering group Jacobs and its joint venture with Saudi oil giant Aramco and sovereign wealth fund PIF – Jasara Project Management Company – will provide project management and construction management consultancy (PMCM) services for the project for a five-year period.
According to Pendleton, the mirrored facade will be penetrated by natural light and the canyon [inside of the structure] has been scientifically modelled in a way that makes the most of the sun's high arc in summer and low arc in winter. He added that 200 m wide by 500 m tall – and 170 km in length – was the best engineered solution for The Line to eventually accommodate nine million people.
A large team of piling contractors are currently on site creating the corridors that will house the two linear buildings and the related underground infrastructure. Among them are the Saudi unit of Bauer, Keller and Trevi.
Trogena
While millions of cubic metres of earth are currently being excavated for the lake site and early works are under way for The Vault, the vertical ski village, of Trojena, the mountain destination has been attracting leading hospitality chains to add their banner to the world-class hospitality facilities that are set to take shape there.
With Trogena set to host the 2029 Asian Winter Games, Neom has been pushing ahead with plans to develop world-class hospitality facilities within the mountain destination in line with its ambitions to welcome its first guests in 2026.
Among the latest to sign up for Trojena is Marriott International which intends to open two luxury properties in Trojena. The agreement includes Saudi Arabia's first W Hotel, and a JW Marriott property.
The W Hotel in Trojena is anticipated to feature 236 guest rooms, including 47 suites, with uninterrupted views of the mountains and a freshwater lake. Design plans for the property comprise signature brand spaces including a Living Room, WET Deck, W Lounge, Away Spa and FIT fitness centre. Rooted in sophistication, the JW Marriott Hotel will be situated in The Bow, which is anticipated to be a futuristic water world. Immersed inside the Lake and surrounded by a mountainscape, the substructure will be designed to withstand the weight and pressure of the surrounding water while remaining spaces will be easily adaptable to allow for multi-season use including an atrium capable of hosting largescale events. Plans for the hotel include 500 luxury rooms and suites, and extensive entertainment and recreational offerings including a ballroom, meeting spaces, five dining venues, a fitness club, a kids club, swimming pools and a spa.
Among other hospitality chains, Minor Hotels will develop a new 270-key resort under its Anantara brand, the Anantara resort in Water Village, part of the Valley Cluster of Trojena.
Other hotels being developed include The Chedi Trojena, which will be managed by General Hotel Management (GHM), the creator of stylish hotels and resorts worldwide, and a next-generation, ultra-sustainable retreat run by Collective Retreats, a pioneer in outdoor experiential hospitality.
Nestled within the Slope Residences atop the mountain peaks, The Chedi Trojena will be part of an iconic residential village in one of Trojena's six distinctive clusters. The hotel's location in the Relax Cluster serves as a sanctuary for reflection, recreation, and rejuvenation.
Slated to open in early 2026, the Collective's retreat, meanwhile will feature approximately 60 open-air guest rooms and innovative meeting space concepts as well as dramatic water features, communal campfires and inspired culinary experiences.
Located 50 km from the Gulf of Aqaba coast in the heart of Neom's mountainous region, Trojena is being developed and positioned as a year-round adventure sports destination that will include activities such as skiing, water sports, hiking and mountain biking. It will be the Gulf's first outdoor ski resort, staging world-class sporting events, art exhibitions, concerts, and cultural festivals.
Bechtel, a leading US engineering, construction, and project management company, is the project management consultant for Trojena.
Sindalah
Sindalah, one of a group of islands off the Neom coastline, is being positioned as a glamorous gateway to the Red Sea that will redefine the luxury island experience. It is also destined to be the Red Sea region's first ultra-prime superyachting destination. Opening in Q1 2024, the island will be the first iteration of Neom to be unveiled to the world.
The island is designed by world-class architects at Luca Dini Design and Architecture, with each building designed as rocks to blend with its environment.
Spread over an 840,000-sq-m area, the island will feature several tourist attractions, including a marina, a beach club, a yacht club, three luxury hotels, a holistic spa, a wellness centre plus 51 luxury retail outlets.
US-headquartered IGY Marinas has been appointed to develop and operate the 86-berth marina at Sindalah.
Providing one-of-a-kind nautical experience, Sindalah will offer 413 ultra-premium hotel rooms, in addition to 333 top-end serviced apartments and 38 unique culinary offerings. Among the hospitality chains that the resort has attracted is Marriott International which will set up Saudi Arabia's first Autograph Collection Hotels property, as well as two Luxury Collection properties.
Neom also aims to set up the first island golf course in the GCC at Sindalah in a partnership with industry leader IMG Golf Course Services.
Designed by Robert Trent Jones Jr, the 6,474-yard (5,920 m) par 70 golf course will boast nine holes and 18 teeing points, as well as a 280-m driving range and golf practice suites fitted with state-of-the-art ball tracking technology and statistics feedback. The course is also set to be GEO certified, meaning it will demonstrate the highest standards of environmental and social responsibility.
IMG Golf Course Services has been appointed to provide pre-opening, marketing and management services to the Golf Club at Sindalah, which will be a year-round, exclusive venue, elevating the golfing experience in the Middle East.
Oxagon
As Neom's advanced manufacturing and innovation city Oxagon, the octagonal-shaped industrial city that will cover 48 sq km, will host some of the world-leading utilities and industrial infrastructure which includes the world's large green hydrogen project by Neom Green Hydrogen Company (NGHC).
NGHC is a joint venture of Acwa Power, a leading developer, investor, and operator of power generation, water desalination and green hydrogen plants, US-based Air Products, a world leader in industrial gases, and the developer of Neom.
Acwa Power has indicated that work is in full swing at its $8.4-billion green hydrogen facility. According to Neom, the plant will start producing green hydrogen from 100 per cent renewable energy sources in 2026, with production of up to 1.2 million tonnes of green ammonia annually.
L&T's Power Transmission & Distribution (PT&D) business vertical, is engaged on the power elements and grid packages, on the project. The company is engineering, procuring, and constructing a 2.2 GWac PV solar plant, 1.65 GW wind generation balance of plant and a 400 MWh battery energy storage system (BESS) under the power elements package.
Meanwhile, leading French engineering and project management services company Assystem has been signed up by Enowa to conduct a suite of pre-development studies for seven planned solar photovoltaic parks in the kingdom.
According to Assystem, the sites earmarked to host the solar parks stretch over 420 sq km covering Tabuk and Duba regions, potentially amounting to more than 20GW in energy generating capacity.
In the electricity transmission field, Hitachi Energy, a global leader in sustainable energy solutions, has secured a major contract from Enowa and the Saudi Electricity Company (SEC) to design, develop and commission one of the world's first 3 GW, 525 kilovolt (kV) HVDC Light transmission systems in Neom.
Under the deal, Hitachi Energy will design and develop the first phase of the visionary Neom region transmission system, together with its consortium partner Saudi Services for Electro Mechanical Works (SSEM).
This system will help connect Oxagon to the Yanbu area, over a distance of more than 650 km in western Saudi Arabia.
Among other key developments, Japanese trading company Itochu, and French water, waste and energy management solutions specialist Veolia are developing a first-of-its-kind selective desalination plant powered by 100 per cent renewable energy within Oxagon.
Set to produce its early-water in 2024, the new facility will be key to realising Enowa's ambitions to create a sustainable, abundant water supply for residential, industrial, and commercial use. The new state-of-the-art plant will use advanced membrane technology to produce separate brine streams.
Work is also under way on the expansion of Duba port, which will facilitate work on the Neom project.