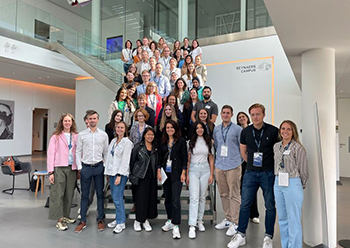 Reynaers' marketing executives who attended the conference.
Reynaers Group's marketing executives from across the world came together to connect in person and share their knowledge at the annual marketing conference held last month by the leading specialist in sustainable aluminium solutions at its headquarters in Belgium.
Representing the group's regional office Reynaers Middle East (RME) at the International Marketing Conference 2023 at Reynaers Campus were Hina Khan and Eman Salman from RME's Marketing Department in Bahrain.
The three-day conference brought together more than 50 marketing colleagues from Reynaers Aluminium worldwide to share insights, learn about the latest trends, and network with their peers.
The conference kicked off with an interactive walking tour of Mechelen, Belgium, followed by a gala dinner at the Van der Valk Hotel which culminated in an awards ceremony. On the second day, participants attended forward-looking sessions on the company's upcoming projects for 2024, and participated in empowering marketing workshops on topics such as digital trends and the art of storytelling in advertising.
"The yearly marketing conference is a symbol of our shared journey towards excellence," said Ali Khalaf, Managing Director, Reynaers Middle East. "It encapsulates the essence of our organisation – a vibrant community of individuals working together to achieve greatness.
"The International Marketing Conference provides an ideal platform to share experiences with our peers and appreciate the dedication and creativity of our global team as a whole. The event was a testament to our shared commitment to growth, innovation, and building lasting connections."
Reynaers Group enfolds its several diverse companies in three business units, namely aluminium architectural solutions (Reynaers Aluminium), steel architectural solutions and building products. Founded in 1965, the Reynaers Group is active in more than 70 countries worldwide with 40 subsidiaries and 2,400 employees.
Reynaers Aluminium specialises in the development and marketing of innovative and sustainable aluminium solutions for windows, doors, curtain-walls, sliding systems, sun screening and conservatories.
Reynaers Middle East is based in Bahrain and caters to the entire GCC region in addition to Lebanon, Egypt, Jordan and Iraq. It has branch offices in the UAE, Egypt and Jordan.