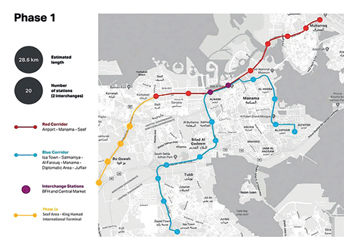 Tenders will be issued soon for the first phase of the Bahrain Metro project and seven shortlisted consortiums from Bahrain, China, India, Egypt, Saudi Arabia and Europe will be asked to bid for the project, a report in our sister publication Gulf Daily News said.
The scope of the project covers an estimated length of almost 29 km with 20 stations, including two interchanges, with two corridors – one for the airport, Manama and Seef and the second linking Isa Town, Salmaniya, Farouk Junction, Manama, Diplomatic Area and Juffair.
"The project's tender will be issued soon amongst the seven qualified consortiums and we are just awaiting final responses from other ministries and government bodies concerned so we can go ahead," revealed the Transportation and Telecommunications Ministry's land transport projects chief Fadwah Zaid.
"The first phase covering two paths will see the Red Line start from Bahrain International Airport to the Seef District and the Blue Line from Juffair to the Bahrain Metro Warehouse in Isa Town.
Zaid said a 35-year 'concession contract' covering design, construction, funding, operation and maintenance will be held by closed-tender amongst the seven consortiums that have prequalified to bid.
She explained that the winning bidder would have five years to construct and 30 years to operate the metro system and would need to present a new blueprint for the project.