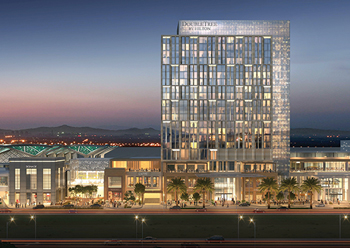 Madinah Gate includes the development of a four-star hotel, shops, restaurants, an entertainment area and a bus station connected to the train station.
Saudi Arabia recently announced a change to its visa rules that will make it easier for Muslims to travel to the holy cities of Makkah and Madinah, particularly for Umrah. This is expected to lead to a significant increase in tourism to these cities, as well as to the wider kingdom.
One of the goals of Saudi Arabia's 2030 Vision is to boost tourism, and the new visa rules are a major step towards achieving this goal. Previously, there were a number of restrictions on travel to Saudi Arabia for Umrah, but these have now been lifted. This means that all Muslims are now able to visit the holy cities throughout the year, apart from the Hajj period.
The projected growth of tourism in Saudi Arabia is already having a positive impact on the economy, with a number of developers joining efforts to boost the infrastructure in these cities and enhance facilities to handle the influx of tourists.
As a project and construction management company, Hill International is currently involved with a number of these developers in the two holy cities, including Rua Al Madinah, Knowledge Economic City (KEC) along with Riyadh Capital Company, all in Madinah; and the Jabal Omar Development Company (JODC) in Makkah, to name a few.
It has also carried out projects for Dur Hospitality, which operates hotels in Saudi Arabia. This developer was acquired by Taiba Investments Company – a Madinah-focused real estate hospitality developer – in April this year.
In Madinah, Rua Al Madinah Holding is planning to invest nearly SR140 billion ($37.3 billion) in the construction of 47,000 hotel rooms over the next seven years. The centerpiece of the mega development is the Rua Al Madinah project to be built over 1 million sq m and aimed at strengthening the position of Madinah as a prestigious religious destination with a modern architectural system derived from its ancient history.
Hill is currently working on completing in the next couple of months its project management services contract for Rua Al Madinah Holding to streamline the infrastructure for the Madinah Central Area (MCA) development.
The MCA development is part of the Saudi Arabia's Vision 2030 programme and the advance infrastructure package will enable Al Amida Road to serve as an alternative to the current ring road by expanding the roadway to six lanes and upgrading the Ali Bin Abi Taleb traffic tunnel and connecting Al Amida to the King Faisal Ring Road.
Meanwhile, Knowledge Economic City – working on the mandate of positioning young Saudi entrepreneurs as leaders in knowledge-based industries and targeting to attract and develop talent from around the world – has its own planned investments. Along with Riyadh Capital Company, it is developing the Madinah Gate project, a tourism and hospitality development designed to serve the needs of pilgrims and tourists to the holy cities.
Madinah Gate includes the development of four-star hotel rooms and apartments, retail shops, restaurants, an entertainment area and a bus station connected directly to the train station. It also involves the construction of a commercial and entertainment centre offering 23,000 sq m of leasable area with 78 shops, 39 restaurants and cafes, two entertainment centres, a cinema with an 800-seat capacity and 800 parking spaces.
Among other projects, Hill is already providing its project management (PM) services for 60 schools in Madinah and 33 schools in Makkah.
Besides projects being developed by Rua Al Madinah, KEC and Riyadh Capital, and Taiba along with Dur, further developments are also in the pipeline to enhance the existing infrastructure, hospitals, schools and related support services.
One such project is the redevelopment of the Qibaa mosque which entails a major refurbishment of the historic mosque over 50,000 sq m to accommodate over 65,000 worshippers from its current capacity of about 20,000 worshippers.
In Makkah, by far, the biggest development is the Jabal Omar mega project by JODC, which – under its original plan – included the construction of 26 internationally-branded hotels with a total built-up area of 2 million sq m along with hotel rooms/suites, residential and retail buildings. In total, 40 towers are planned for construction, with the initial two phases of the project having been completed.
The Jabal Omar development is located within walking distance of the Grand Mosque, which is also currently being expanded to build additional facilities to accommodate 2.2 million worshippers on a 1.5-million-sq-m site.
With the Covid-19 pandemic and supply chain issues behind, the kingdom is ready to deliver on the ambitious developments in Makkah and Madinah and for its part, Hill is ready to ensure the mega projects are completed successfully.