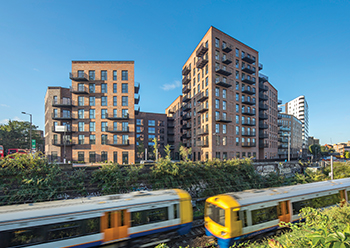 Dalston Works ... the world's largest timber building by volume.
In the coming decades, a radical overhaul in how the construction industry operates must take place in order to make the sector sustainable into the future while also ensuring it plays a leading role in hitting the vital environmental targets we all depend upon.
This will necessitate major shifts across the industry and the way the built environment encourages humans to live and interact with the world around us.
Resource acquisition, land use, the natural world and the continued development and progress of our species are all tightly bound together. Currently the balance is not right, and the toll on our planet is growing.
According to the United Nations Environment Programme, the built environment accounts for 39 per cent of gross annual carbon emissions worldwide1. This figure includes the ongoing emissions from day-to-day use of buildings, and also all the greenhouse gas emitted in the various stages of production of the building.
While we should already be designing more efficient buildings and constructing them more efficiently so as to reduce their environmental impact, progress has been so minimal we are still accelerating towards disaster.
According to a UN report released at COP27 in Egypt at the end of last year, the sector accounted for over 34 per cent of global energy demand and around 37 per cent of energy and process-related carbon dioxide (CO2) emissions in 2021.
The construction sector's operational energy-related emissions reached a record 10 billion tonnes of CO2 equivalent (a measure including all greenhouse gases). This is five per cent higher than 2020 levels and two per cent higher than the pre-pandemic peak in 2019.
The UN has warned that "growing energy demand for heating and cooling, with rising air-conditioner ownership, as well as increased electricity consumption for lighting, appliances, and connected devices, has contributed to a rise in energy-related carbon-dioxide emissions from buildings in recent years".
In 2021, energy demand for heating, cooling, lighting and the use of other equipment in buildings rose by around four per cent from 2020.
But it isn't too late for the construction industry to change course.
As targets continue to be missed, not only is the future of our civilisation becoming more precarious, but in the shorter term, companies expose themselves to heightened risk as governments seek to clamp down on those responsible for the emissions resulting in failures to hit internationally-agreed climate goals.
Other economic imperatives to put sustainable practices at the core of the construction industry include incoming finance regulation, such as carbon pricing, the increasing importance of ESG (environmental, social and governance) reporting, preferential insurance premiums for environmentally responsible companies, reduced build costs, and the chance to lay the foundations for a solid corporate reputation into the future.
What can the construction industry do to improve sustainability?
If humanity has any hope of aiming for net zero emissions in the coming decades, then all industries need to ensure that accurate accounting of all sources of emissions become detailed and standardised.
In the construction industry, this is a multifaceted challenge. As well as accounting for the emissions a building will generate during its intended use, and the embodied carbon the building project includes, all the various companies and contractors involved in the project must also take stock of their own total emissions output – from materials and machinery production, to travel, energy use, and food.
A new dimension of collaboration is required between architects, contractors and all the other stakeholders involved in construction projects, ensuring they are able to understand the action required to reduce emissions.
Reusing and retrofitting buildings
Reusing and retrofitting existing building stock is critical to having a meaningful impact on emissions reductions. The UN's Intergovernmental Panel on Climate Change (IPCC) highlights building reuse as a vital means of slashing emissions, saying that redeveloping the existing built environment will achieve "the largest GHG emissions savings by replacing, repurposing, or retrofitting the building stock" 2.
According to the International Energy Agency (IEA), retrofitting of buildings remains a significant challenge since at least 40 per cent of buildings' floor area in developed economies was built before 1980, when the first thermal regulations came into force3.
Retrofitting 20 per cent of the existing building stock to a zero-carbon-ready level by 2030 will put us on track to hit existing climate targets, the IEA has said. To achieve this goal, an annual renovation rate of over two per cent of the world's buildings is needed from now to 2030 and beyond.
There are some signs this is beginning to happen4. In the US this year, architectural billings from reuse outpaced those from ground up construction for the first time.
But this can't happen everywhere. UN figures indicate the population of Africa is on track to reach 2.4 billion people by 2050 with 80 per cent of this growth forecast to occur in cities1. An estimated 70 per of the African building stock expected for 2040 has yet to be built.
In such scenarios, new buildings must be made with the changing global climate in mind.
According to Gregorio Esteban, founder and CEO of Miraval Holdings, a sustainable developer of self-sufficient ecocities in Latin America, "a building is always going to be as eco as the environment that it is depending on".
"It's not just about the building process, it's about the whole process from scratch, from the concept, the land acquisition, the use, to 50 years later, the impact it will have had," he says.
Making a material change
When it comes to the construction phase, developers must move away from many of the materials which have defined late 20th and early 21st century construction – if not entirely, then at least their use needs to be reconsidered and steps taken to reduce the environmental burden.
Cement and concrete are among the most-used building materials, but are extremely carbon-emitting.
As of 2021, at least eight per cent of global emissions caused by humans come from the cement industry alone – more than three times the amount than the aviation industry produces, for example5. Emissions from cement production have more than doubled in just the last 20 years6.
The sector also requires massive amounts of water, taking up around a tenth of all water used in industry – frequently in areas already suffering from chronic water shortages.
Meanwhile, the steel industry is responsible for around seven per cent of total emissions globally, largely due to traditional blast furnaces' dependence on fossil fuels, including coking coal.
Recycled steel, bamboo, and straw bales have all become routinely used in the construction industry, while new methods of laminating sheets of cheaply and sustainably-grown wood can offer major benefits over steel-framed structures, not only bettering steel on strength and fire-resistance, but also sequestering carbon – not producing it.
A shift to wood by construction companies could save 100 billion tonnes of CO2 from entering and superheating the atmosphere by the end of the century, according to a major 2022 study 7.
Cross Laminated Timber (CLT) is already being used in major construction projects in place of steel.
The world's tallest timber building – the 85.4-m, 18-storey Mjostarnet building in Norway, was completed in 2019 and is also the country's third-tallest building. The mixed-use building's frame is made from CLT; no steel in sight.
In London, the world's largest timber building by volume is Dalston Works, a 10-storey construction, which opened in 2017 and has won numerous industry awards.
Eco-friendly building design
Raw materials are just the beginning when it comes to slashing emissions. Incorporating passive design elements to ensure long-term efficiency is a crucial step to reduce the overall energy consumption for the buildings we live and work in. Poor design results in over-dependence on both heating and cooling systems, while intelligent use of materials, layout, building orientation, insulation and ventilation can drastically reduce energy demands in this area, while also bringing natural light into buildings to further reduce energy demand and promote well-being. Other passive technology includes rainwater collection systems and even reduce noise pollution.
Renewable energy
Renewable energy should be a go-to consideration for powering new builds. It is hard to overstate the lightning speed with which the market for renewables has moved. The benefits, but most importantly the astonishing fall in costs for renewables mean the end of fossil fuels for domestic energy consumption is already in sight.
Even the most energy-efficient boilers fail to compete with geothermal heat pumps, while air-source heat pumps have a similarly enormous level of efficiency.
Photovoltaic solar roof panels have long been a standard feature on sustainable buildings, but a new generation of solar-tiles promise even greater levels of flexibility and enhanced returns on investment.
Solar water-heating systems can also be invisibly designed into roof systems alongside PV.
Creating developments alongside planning authorities to encourage active travel instead of private vehicle ownership is also an essential step, and where this cannot happen, the inclusion of electric vehicle charging points can help nudge people away from dependence on internal combustion engines and into the 21st century.
We already have so many solutions. It is time to put them into practice and build a world we can pass down to future generations with pride.
* Dr Abdullah Bilhaif Al Nuaimi, a former engineer, was Minister for Climate Change and Environment in the UAE government until 2021. Prior to that he was Minister for Infrastructure Development – a post he held for seven years.
With a PhD in Construction Management from Reading University, Dr Al Nuami has worked for decades with governments and businesses to address sustainability and environmental issues to combat global warming. He speaks at global conferences on construction and climate change.
1. https://www.unep.org/news-and-stories/press-release/co2-emissions-buildings-and-construction-hit-new-high-leaving-sector
2. https://www.ipcc.ch/report/ar6/wg2/
3. https://iea.blob.core.windows.net/assets/7f8aed40-89af-4348-be19-c8a67df0b9ea/Energy_Technology_Perspectives_2020_PDF.pdf
4. https://architizer.com/blog/inspiration/stories/case-for-reuse-carbon-reductions/
5. https://www.nature.com/articles/d41586-021-02612-5
6. https://www.edie.net/cement-and-concrete-industrys-emissions-have-doubled-in-20-years/
7. https://www.independent.co.uk/climate-change/news/timber-cities-wood-construction-carbon-concrete-glass-b2155882.html