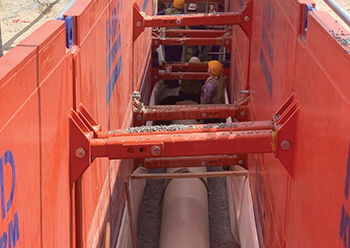 Altrad RMDK's trench boxes can meet varying depths and lengths of excavations.
Trench excavations pose a range of safety and environmental hazards to workers. It's a staggering fact that the fatality rate for excavation work is 112 per cent higher than the rate for general construction1. Understandably, collapses are a particular concern, with a cubic yard of soil as heavy as a bull elephant.
Should a trench wall collapse and someone be buried beneath the debris then suffocating, crushing or at worst, fatalities are a major risk. In the Middle East, flash floods are another concern. Sudden torrential rain can be very dangerous, potentially making entering and exiting trenches extremely difficult.
There are many reasons why a trench wall might collapse. For example, if a trench is situated next to a busy road, excessive loads or vibrations from passing traffic could potentially cause surcharges, compromising the trench walls.
Alternatively, contractors might locate the work close to other surrounding hazards. For instance, underground services – such as fibre optics, gas, water or electricity – could be installed very near where the excavation work is taking place. Should a trench collapse, then this can cause real damage to these services and quickly lead to severe problems.
Creating a safer environment
There are some vital signs that a trench could be about to cave in. These include bulging at the bottom of walls, tension cracks parallel to the trench walls, and falling materials. The primary concern is often around collapses, which are more likely to be fatal to those involved than any other construction-related accidents.
Ultimately, without the right equipment to support the ground, there is a real risk to life for those working on excavation projects. This risk, however, can be minimised by using equipment such as trench boxes.
A trench box is a trench-lining system used for temporary earth-retaining structures. As the name suggests, a trench box can be used in applications requiring two-sided support and is ideal for those seeking a simple, robust and easy-to-use system. The excavator can install these with minimum assistance and training.
Superior solution
Trench box systems from Altrad RMD Kwikform (Altrad RMDK), a leading provider of formwork, falsework, and ground shoring solutions, have been developed to provide a superior panel design, offering a market-leading strength-to-weight ratio compared with any alternative shoring system for excavation.
The company's Trench Boxes can meet varying depths and lengths – generally for depths of up to 5.6 m and widths of up to 4 m. Its range of products provides all the qualities that are expected from a market-leading supplier of Trench Box solutions. These solutions are fit for purpose, CE marked, and high-quality, which has helped Altrad RMD Kwikform to establish itself as a leader in this field.
One of the company's key focuses with Trench Boxes is making the product faster to install, safer and easier to use. The trench support systems significantly reduce the time taken on-site for assembly, installation and removal.
Finally, Altrad RMD Kwikform wants the user system to be easy. Its box panels and telescopic struts are built with simple 'pin and clip' arrangements to enable easy adjustment for struts.
Thanks to these attributes, Altrad RMD Kwikform's Trench Boxes are the ideal solution to protect against the dangers of excavations for those seeking a high-performance, efficient and – most importantly – safe system.
Altrad RMDK provides engineering solutions in the specialist field of temporary structures, needed to deliver major infrastructure and building projects. Designing, hiring, and selling formwork, falsework, ground shoring, and safety and access systems to the construction industry, key sectors include civil engineering and infrastructure, energy and industrial, commercial, and multi-storey residential buildings.
With over 70 years' engineering experience, Altrad RMDK operates in 15 countries around the world, while servicing many more through its export teams. Working closely with the entire supply chain, Altrad RMDK has global experience working with businesses at each stage of the construction process, with key markets including the UK, Australia, India, and the Middle East.
Altrad RMDK strives to deliver the most efficient, safe and easy-to-use temporary works solutions for its customers, which encompasses its digital engineering expertise too. From 3D designs and BIM-compliant models to its visualisation software LocusEye, these tools help clients minimise risks and streamline workflows, while enabling greater collaboration across the supply chain.
1. EHS Today, 'Danger in the Trenches: Excavation Shortcuts Cost Lives', https://www.ehstoday.com/construction/article/21917583/ danger-in-the-trenches-excavation-shortcuts-cost-lives