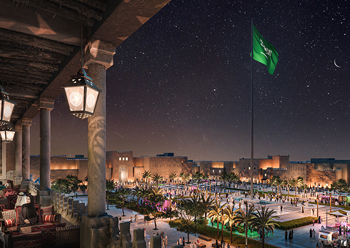 King Salman Square, a striking plaza within Diriyah Gate.
Saudi real estate group Al Akaria has announced that one of its key subsidiaries, Binyah, has secured a SR374-million ($99.5 million) contract from Diriyah Gate Company to carry out enabling works at its DG II project site.
A leading Saudi group which is owned 60 per cent by Al Akaria, Binyah is a major player in the infrastructure development sector. It is a specialist in construction of roads, bridges and tunnels as well as laying of oil and gas pipelines, constructing stations and main lines for water distribution and sewage stations and projects. It is also involved in marine construction and associated works such as building of port docks and demolition of buildings.
As per the deal, Binyah will handle the execution works of DG II area, including site preparation, earthworks of cutting, filling, demolition, compaction and other associated works, said Al Akaria in its filing to the Saudi bourse Tadawul.
The entire enabling works job will be completed within a span of 548 days, it added.