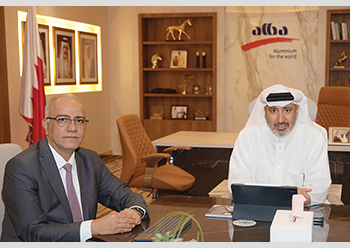 At the virtual meeting ... Al Baqali and Shaikh Daij.
Aluminium Bahrain (Alba), one of the world's largest aluminium smelters, has signed up International Bechtel, a global leader in engineering, procurement and construction (EPC) sector, to conduct a feasibility study for its Line 7 project.
Expected to be completed by September 2023, the study will provide a comprehensive evaluation of all factors to determine the viability of the Line 7 Project, said Alba.
Alba awarded the contract during a virtual meeting last month with Bechtel officials. It was attended by Alba's Chairman of the Board Shaikh Daij bin Salman bin Daij Al Khalifa, CEO Ali Al Baqali along with senior Bechtel executives Chief Operations Officer Craig Albert and Mining & Metals President Ailie MacAdam, it stated.
Speaking on the occasion, Shaikh Daij said: "This proposed project underlines our ambition to grow organically and will further cement our position as one of the largest environment-friendly smelters in the world."
It is estimated that Line 7 Project will have a similar production capacity as Line 6 Expansion Project – within the range of 540,000 tonnes per annum.