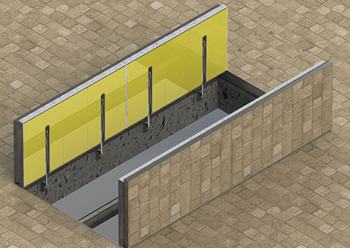 Howe Green's new Certifire fire-rated HDL floor hatch.
Access 360, one of the UK's leading access solutions manufacturers, will be exhibiting its comprehensive portfolio of access products for ceilings, walls and floors at The Big 5.
At its stand at the show, Access 360's team of technical experts will be available to provide visitors with an insight about the company's complete range of high-performance access solutions from its brands, Profab Access and Howe Green, and industry partner, TechTrade Doors.
Profab Access' comprehensive portfolio of independently tested access panels and riser doors will be on display, including its Prima 1000 fire-rated series, Vision 8000 Series, and Integra 4000 Series riser door with Precision adjustable frame.
Across the three days, Howe Green will be unveiling its new Certifire fire-rated HDL floor hatch, which is available in dimensions of up to 12 m x 6 m, to support construction professionals in meeting the most demanding site requirements.
Howe Green will also be displaying its resilient Visedge Series floor access covers, in addition to its 7500 Series, which is independently Certifire fire rated to BS 476 Part 22 for two hours on integrity, and up to two hours on insulation, he says.
Marcus Parnham, Commercial Director at Access 360, comments: "The Big 5 presents us with an exclusive opportunity to meet with industry professionals, find out more about their upcoming projects and discuss how our extensive range of access solutions can support them in achieving the highest standards of compliance and performance."
Access 360's team of specification managers will also be attending Bond Five Star in Abu Dhabi (December 10 to 13) to meet with leading architects and specifiers and showcase the capabilities of its extensive range of access solutions.
Bilco UK, Profab Access and Howe Green together form Access 360, part of Tyman UK & Ireland, which provides a total manufacturing solution for roof, ceiling, wall and floor access products to the construction industry.