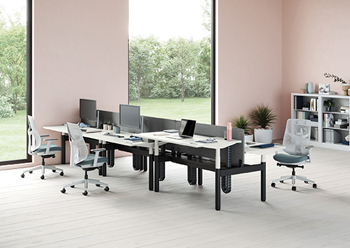 Ratio, a height-adjustable desking system.
Leading furniture manufacturer Herman Miller has introduced the next evolution of Ratio, a market-leading height-adjustable desking system.
The next generation of Ratio is a direct response to customer needs and the growing demand for flexible solutions in today's offices. The sit-to-stand desk is now even more agile than before, offering users even more choice.
"At Herman Miller, refining great design takes a three-pronged approach: one that involves studying the latest ergonomic science, listening to what customers have to say, and testing and prototyping until each product is just right," explains a spokesman for the company. "This is the process Ratio went through. This height-adjustable desk already supported flexibility through its ability to be configured in linear, 90-degree and 120-degree formations. Herman Miller's design team watched how people used it, and saw that it could be even better. In response to a constantly shifting office landscape, and seeing the desire for greater personalisation, Ratio underwent a significant evolution that enhanced its look, feel – and purpose."
Ratio comes in nine distinctive colourways, which can be used on their own or mixed and matched. With monotone and dual tone leg options now available, users have an impressive 41 colour combinations to choose from.
The aim here was to enable people to get playful in creating offices that are personal, and that meet their needs. As part of this mission, Herman Miller is now offering the same colour combinations and customisation options across a range of new collections.
One can apply the same colour combinations – or mix and match for a contrasting look – to the Cosm and Zeph task chair collections, the Byne Workstation System, as well as the OE1 Workspace Collection, a portfolio of modular, mobile tables, storage solutions and more.
To give users even more flexibility, the newly refined Ratio syncs with Ambit Workspace Solutions, Herman Miller's new collection of components and accessories. Ambit's highly configurable screen attachments come in multiple configurations, helping people create customised spaces for privacy and focus work. The screens are available in a wide range of colours and finishes – once again supporting choice and personalisation in the workplace.
"And that's not all. Ambit helps users streamline their workspace via vertical cable management, and its storage simplifies the office hoteling experience with its ability to hold personal items, such as bags," he spokesman adds.