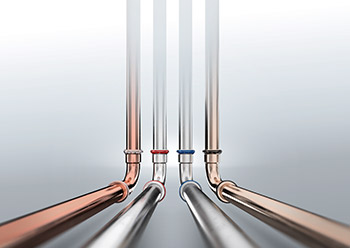 Mapress is available as stainless steel, carbon steel, copper as well as CuNiFe systems.
Swiss sanitary solutions provider Geberit says its proven piping systems have been built to tackle key environmental challenges faced in applications ranging from drinking water supply networks to desalination plants and from highly corrosive industrial facilities to offshore projects.
In response to clients' demands for reliable and durable pipe joints that make work on the building site faster and economical, Geberit has been offering its press-fit pipe supply systems, namely Mapress and Mepla, which have been used successfully for decades in a variety of piping systems for supply and disposal in industrial applications.
Speaking to Gulf Construction, Geberit's Head of Sales for UAE Projects Mohammed Al Samaneh says press-fit pipe supply systems offer a host of advantages.
He explains: "Pipes and/or fittings change shape when they are pressed with a pressing tool. Geberit's press connections create solid mechanical connections which are permanent and lengthways non-positive. The resilience of the deformed seal rings ensures that the fittings are permanently and hydraulically leakproof.
"Pressing is a quick connection method which saves a lot of time in comparison to traditional methods such as soldering or welding. As open flames are not required, a number of time-consuming protection measures can also be dispensed with.
"In all pressing systems, the pressing jaws are designed in such a way that it is almost impossible to position the tool incorrectly. This reduces or prevents failed pressing sequences."
In addition, these fittings come in a variety of material choices which make them highly suitable for specific applications.
In the Gulf region, Geberit has supplied its Mapress Stainless Steel Piping system for the Mashreq Bank headquarters in Dubai, UAE, which was completed in 2020.
Al Samaneh says the company provided a holistic solution for the project which included Mapress Stainless Steel supply pipes. Also installed at the headquarters project are Geberit's Sigma Duofix and Omega Duofix concealed cisterns and actuator plates.
"The stainless steel piping for the headquarters' water booster supply system has been designed to cope with pressure of more than 16 bar," he points out.
Mapress Stainless Steel Piping system used at the project in dimensions ranging from 15 mm to 108 mm have ensured leakproof and faster installation, thanks to pressing fitting and tools.
According to Al Samaneh, the most challenging aspect of the project was the installation of risers and this were carried out by pressing the fitting along with pipes at the spot, thanks to special tools that can reach the narrow areas at shafts and do the job.
Al Samaneh was responsible for providing all the required technical consulting and training with documentation needed to advise on the temperature resistance of the pipes which was an important factor for WSP, the MEP consulting engineer working on the project. He was also on hand throughout construction for site installation inspections of the piping system.
Among other recent applications, Gulf Craft has used the Mapress Stainless Steel pipes and Mapress CuNife for its luxury yachts.
Mapress
Geberit Mapress, which has proven itself over the past five decades, is a technologically advanced piping system incorporating economically superior and more intelligent connection technology.
The system, based on simple and reliable pressing, is offered in a choice of robust product materials.
"Geberit Mapress sets itself apart from the competition due to its universality and is now indispensable in the sanitary industry," Al Samaneh claims.
Geberit Mapress is available as stainless steel, carbon steel, copper as well as CuNiFe systems, which are offered in further options depending on the particular applications.
"Geberit Mapress Stainless Steel is a versatile installation system which meets high technical requirements and demonstrates its performance capability in drinking water supply, complex industrial applications and installations with high hygienic requirements, such as those in hospitals or laboratories," he says.
System pipes are made of high-alloy, austenitic, stainless CrNiMo steel with product material 1.4401 or CrNi steel with product material 1.4301, according to DIN EN 10088, and are available in pipe dimensions of 12 to 108 mm. With 11 nominal widths and around 500 fittings and adapters, Geberit Mapress Stainless Steel offers a comprehensive range of application options.
The Geberit Mapress Stainless Steel 1.4401 system has a minimum molybdenum content of 2.2 per cent – higher than usual and therefore ensures an extremely high corrosion resistance, he says.
The Geberit Mapress system pipes with product material 1.4301 are an inexpensive steel alternative where drinking water approvals are not required and offer high corrosion resistance while being resistant to multiple media. As CrNi steel 1.4301 is resistant to water, steam, humidity, food acids and weak organic and inorganic acids, the system is suitable for a variety of applications in technical building systems and industry including, for example, heating or cooling circuits as well as negative pressure applications up to an operating pressure of pabs ≥ 200 mbar.
Meanwhile, Geberit's Mapress Carbon Steel pressing system pipes and fittings are available in three versions – inside and outside zinc-plated (1.0215), outside zinc-plated (1.0034) and outside plastic PP-jacketed (1.0034) – and in pipe dimensions ranging from 12 to 108 mm.
"Geberit Mapress Carbon Steel is an economical solution for piping systems that are closed to the atmosphere. Typical applications include heating and cooling circuits, solar systems and 'wet' sprinkler and extinguishing water pipes," Al Samaneh explains.
Geberit also offers Mapress Copper for drinking water installations, heating and cooling water systems, as well as gas and compressed air pipes as well as for other special applications.
Finally, the Geberit Mapress CuNiFe system is designed for applications in contact with sea water such as shipbuilding, seawater desalination plants, and offshore projects.
"These system pipes and fittings are made of CuNiFe, which has excellent corrosion resistance to sea water due to a natural, thin protective coating that quickly forms upon contact with clean sea water. This complex protective coating is mainly made up of copper oxide and is improved by additional nickel and iron, ensuring excellent corrosion resistance," he points out.
Mepla
Geberit also offers a multilayer pipe system that combines the advantages of metal and plastic.
Geberit Mepla is lighter than metal pipes, more inherently stable and robust than plastic pipes, and easy and safe to process: being stable, bendable and able to form a barrier against diffusion. The system also remains leakproof when subjected to pressure far in excess of the standard testing pressure of 1.1. MPa (11 bar).
"The outer plastic layer made of polyethylene (PE-RT of the second generation) protects against corrosion and mechanical damage. The central aluminium layer makes the pipe stable and bendable. The inner layer, also made of PE-RT, is corrosion-resistant and food-safe. In accordance with the Drinking Water Ordinance, Geberit Mepla is suitable for all types of drinking water without restriction," he says.
"With Geberit Mepla, you only need one single system for the drinking water and heating supply. Pipe dimensions from 16 to 75 mm and a selection of around 300 fittings made of polyvinylidene fluoride (PVDF) and gunmetal offer a solution for almost any installation task," he adds.
The globally operating Geberit Group is a European leader in the field of sanitary products. Headquartered in Rapperswil-Jona, Switzerland, Geberit has 26 production facilities, of which four are located overseas.