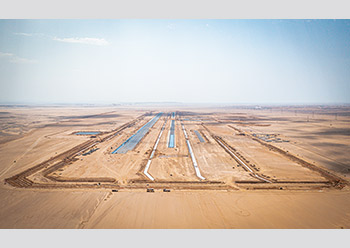 Work in progress on the runway of the Red Sea Airport.
The Red Sea Development Company (TRSDC), the developer behind the world's most ambitious regenerative tourism project in Saudi Arabia, said steady progress is being made on its airport project which is racing ahead of schedule and is fast approaching the half-way mark.
Designed by Foster + Partners, the Red Sea Project airport will be capable of serving one million domestic and international passengers per annum when it opens next year.
"Work is in full swing at the airport site with 48 per cent project already completed. There was a lot of earth to move, approximately 11 million cu m of material. So that work has all been done," John Pagano, the Chief Executive Officer of TRSDC told Gulf Construction on the sidelines of the Arabian & African Hospitality Investment Conference (AHIC) in Dubai.
On the ongoing airport project, Pagano said: "The runways work is going smooth – all the base layers have been put in, all the approach lighting systems are in, the runway has now been surfaced so the first layers of asphalt is down."
"Taxiways now are also at that same stage. The terminal building has a semi-circular apron and there is a link taxiway that gives access to the apron, that's now done. Storm drainage is being built; we have about 18 km to build, so its advancing and its advancing ahead of schedule," said Pagano, who is also the CEO of another ultra-luxury Saudi development Amaala.
The airside infrastructure work for the international airport at Red Sea is being handled by a joint venture between leading Saudi contractors Nesma & Partners Contracting Company and Almabani General Contractors.
The Nesma-Almabani JV is doing a tremendous job amid these challenging times, he stated.
On the terminal design, Pagano said it is a spectacular and one-of-a-kind design. "We are trying to change the whole airport experience, we are not building the big cavernous terminal with one communal hall; its five pods, all of which give you a more private aviation type of experience. That is one of its differentiating characteristics," he explained.
A major highlight will be that after landing, the plane will park almost under the canopy. "You deplane and then go down through gardens to get to the immigration (if travelling internationally) and we are hoping to make this process touchless/seamless using biometrics," he said. "Then you enter the welcome centre, where you will be put into a vehicle and driven straight to your hotel without needing to collect your luggage, as it will be waiting for you there."
Meanwhile, the TRDSC is set to takeover the management of Amaala, another project being developed on the Red Sea, according to plans laid out the kingdom's Public Investment Fund (PIF) which owns both the projects.
When asked about the reason behind the proposed TRSDC-Amaala merger, Pagano said: "Both are 100 per cent owned by Saudi PIF and they have a common CEO .... so it made sense to, but it was always the intention to look at opportunities to synergise. This was precisely the reason to move me into this role in the first place. We are going to bring the organisations much closer together to leverage and take advantage of synergies as well as skill sets. We have good complementary skill sets. So how do we leverage this for the better of both projects plus gain a lots of savings in duplicated functions."