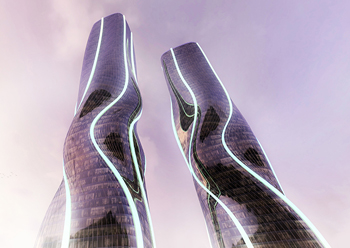 The Clonet ... proposed for Neom.
Prasoon Design Studio, a new-age Dubai-based architecture firm specialising in hospitality, residential, commercial, retail and institutional projects, is looking to disrupt the industry both in the Middle East and on a global scale through iconic designs deeply rooted in environmental mindfulness.
Founded last year by Prasoon Shrivastava, Prasoon Design Studio says it leverages cutting-edge technologies and bio-climatic design to arrive at bespoke architectural solutions.
Prasoon Design Studio believes in architecture and design's transformative power as a vehicle for storytelling and shaping a bond between memories and space.
Among the projects currently in the works for Prasoon Design Studio are The Clonet, a proposed mixed-use development for Neom City, Saudi Arabia; The Hivery, a residential building in Al Barsha, Dubai, whose iconic facade is evolved from the hexagonal pattern of a honeycomb maze; and The Villa on Palm Jumeirah in Dubai, an ultraluxe villa that connects dramatic, light-infused interior spaces with tranquil landscapes and water features.
Elaborating on the design of its proposed project for Neom, Shrivastava says: "The Clonet is a dramatic pair of towers which have a built-up area of 275,000 sq m. The proposed sprawling 300-and 250-m-high towers comprise experiential retail, office spaces, a hotel and an interactive cultural centre. The form for the towers is an expression of transition and an amalgamation of opposing forces – defined by geometries and irregular shapes.
"The façade is expressed as regular geometry reoriented on the Cartesian plane, gradually twisting across the central axis in a fluid motion while reorienting back to its original position across the plane. This outcome has been replicated to form a pair, expressing its character on varying scales. The reflective glass façade veils the steel structure with an exhilarating exterior, keeping the unwanted glare out while letting in streams of light.
"The structure is a combination of a regular, predictable enclosure with a form that feels like a natural extension of nature. It has been inspired by the organic character of natural elements we observe in our daily lives, where the predictability of the geometry faces an unpredictable behaviour.
"The dramatic form of the towers is complemented by environmentally-sensitive functionality with a ventilated atrium to conserve energy by modulating temperature within the void. Ventilated triple-skin façades and low-iron glazing with low emissivity coating maximise energy efficiency resulting in substantially lower levels of energy consumption."
Prasoon Design Studio is focusing on paving the way for an innovative future through integrated digital project delivery, enabled via a suite of intelligent project management, computational design, 5D BIM delivery, and robotics.
"As only the second architecture firm in the world to integrate Spot by Boston Dynamics, the studio can facilitate safer, more efficient, and predictable operations. Through the use of an in-house artificial intelligence-driven construction management platform, Zepth, Prasoon Design Studio is streamlining a project's lifecycle and reporting," Shrivastava concludes.