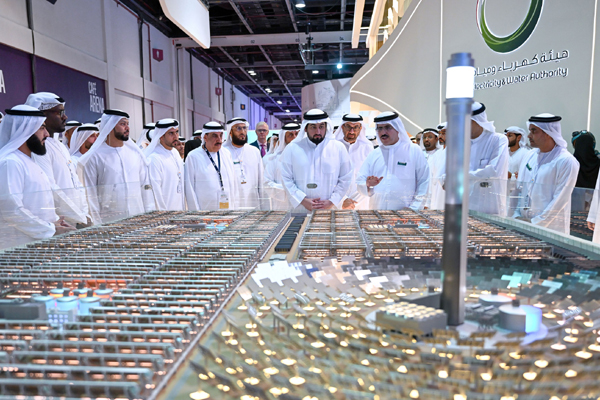 The 25th Water, Energy, Technology and Environment Exhibition (Wetex) and Dubai Solar Show (DSS), the region's largest sustainability and clean energy technology exhibition, opened its doors in Dubai today (November 15).
This year's event is being held under the theme 'At the Forefront of Sustainability'. Spread over 78,000 sq m area, the 2023 Wetex and DSS features the participation of around 2,600 companies from 62 countries, in addition to 76 local and international sponsors. The exhibition includes 24 international pavilions from 16 countries.
The three-day event was inaugurated by Sheikh Ahmed bin Mohammed bin Rashid Al Maktoum, Second Deputy Ruler of Dubai.
"Under the guidance of HH Sheikh Mohammed bin Rashid Al Maktoum, Dubai is advancing towards its target of carbon neutrality by 2050, with significant initiatives such as the Mohammed bin Rashid Al Maktoum Solar Park, the world's largest single-site solar park. Our sustainability initiatives align with our leadership's visionary development strategy to harmonise economic growth and environmental conservation," stated Sheikh Ahmed.
"As the UAE prepares to host the UN climate conference COP28 this month, Dubai continues to accelerate its efforts to enhance sustainability, drive innovation and foster partnerships for a more eco-conscious future. The WETEX and Dubai Solar Show, a key event in the global sustainable energy sector, further underscores Dubai's commitment to climate action and sustainable economic development," he added.
The exhibition, which marks its silver jubilee this year, assumes particular significance in the UAE's Year of Sustainability. Showcasing the latest in renewable and clean energy and environmental technologies, it serves as a platform for knowledge exchange and highlights Dubai's exceptional investment opportunities in the sustainability sector.
He later toured the expo accompanied by Abdulla Al Basti, Secretary General of The Executive Council of Dubai; Matar Humaid Al Tayer, Dewa Chairman; Saeed Mohammed Al Tayer, MD & CEO of Dewa and Founder and Chairman of Wetex and Dubai Solar Show; Helal Saeed Almarri, Director General of Dubai's Department of Economy and Tourism; and other senior officials.
They were briefed about the latest technologies, innovations and products in energy, water desalination, green technologies, clean and renewable energy solutions, environmental sustainability, the Fourth Industrial Revolution technologies, digital transformation, Artificial Intelligence, and R&D, among others.
Al Tayer said the exhibition has become a yearly event anticipated by investors, specialists, decision-makers, as well as organisations and companies working in the energy, water, and sustainability sectors in the region and worldwide.
"It provides a platform to present their latest technologies and green products as well as promote their innovative solutions in renewable and clean energy, water, environment, and sustainability, among other areas. The exhibition allows them to explore promising investment opportunities in these vital sectors," said Saeed Mohammed Al Tayer.
"Over 25 years, these shows have provided a leading platform for investors to build strategic partnerships and explore business opportunities by meeting representatives from major companies and decision-makers from around the world under one roof. This supports global sustainability ambitions and strengthens cooperation among all stakeholders," he stated.
"The large turnout from major local and international companies this year reflects the importance of Wetex and DSS as a leading platform that supports global cooperation and contributes to shaping new prospects to build a brighter and more sustainable future for the current and next generations," he added.-TradeArabia News Service