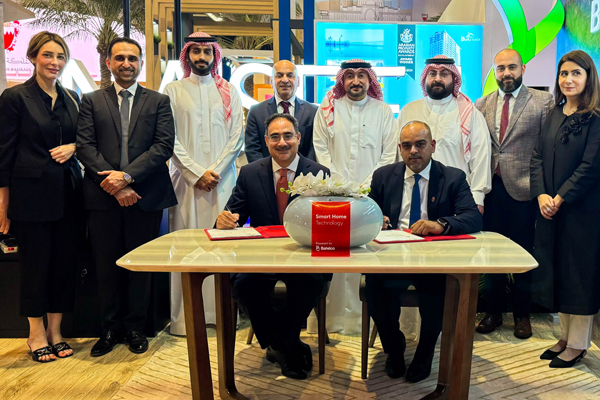 Batelco, a part of the Beyon Group, has signed an agreement with Naseej, one of the kingdom's leading real estate development companies, to provide smart home solutions for its Nasayim residential project located in Arad, Muharraq.
Through this partnership, Batelco will equip the Nasayim villas with the latest technologies, creating smart-enabled homes that will provide homeowners with convenience, efficiency in power consumption, security systems and personalized settings, said the company in a statement.
The agreement was signed by Naseej CEO Amin Al Arrayed and Batelco Chief Operating Officer Maitham Abdulla at the Cityscape Bahrain in the presence of representatives from both companies.
For the event, Naseej has partnered with Batelco to set up an experience zone at its pavilion aimed at providing potential buyers with the opportunity to have a real-life simulation and test the features of its 'Nasayim Arad' homes.
On the deal, Al Arrayed, said: "We are pleased to announce our collaboration with Batelco, appointing them as our Technology Partner for the Nasayim villa project. We look forward to leveraging Batelco's ICT expertise in enabling these homes as smart homes for the affordable sector."
"We are confident that these smart enabled homes will provide high value to their owners for many years to come without incurring the hassle of modifying or redesigning them in the years ahead, paving the way for a more prosperous future in the housing sector in the Kingdom of Bahrain," he stated.
"With our strategic tie-up, we aim to deliver the highest standards of quality in our product offering, thereby serving clients with enhanced value and distinguishing Naseej's projects in the market." he added.
Abdulla said Naseej has proven, through its portfolio of projects, its capabilities in the field of real estate development and it was delighted to be collaborating with them as the technology partner for their project.
"Everyone today dreams about owning homes that are smart enabled and Batelco is committed to delivering the technology that will meet the aspirations and needs of Bahraini homeowners," he stated.
"The project combines real estate and innovative technological solutions, and we are looking forward to working with Naseej, unifying our efforts to deliver smart enabled villas in line with the demands for a modern-day lifestyle," he added.-TradeArabia News Service