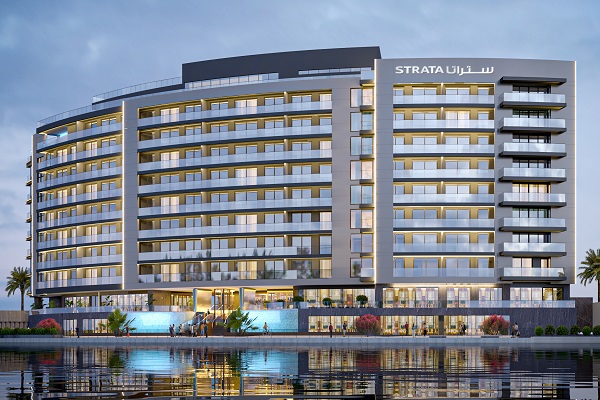 Bareeq Al Retaj, a leading real estate development company based in Bahrain, has announced that it will showcase its key project 'Strata At Dilmunia' during the upcoming Cityscape Bahrain 2023 expo.
The three-day event, which is being hosted in the kingdom for the second consecutive year under the patronage of His Royal Highness Prince Salman bin Hamad Al Khalifa, Crown Prince and Prime Minister, kicks off on November 14 at the Exhibition World Bahrain.
During the event, the Bareeq Al Retaj pavilion will offer visitors and investors the opportunity to invest in this luxury project and learn about its exceptional amenities and features.
Comprising nine floors on a 31,000 sq m area, Strata At Dilmunia boasts a host of modern comfort and facilities, it stated.
According to the developer, the architectural style of the building draws on the Latin phrase 'strata' which refers to floors or layers.
With an emphasis on illumination and spaciousness, this design features unique lighting elements and sizable rooms to create an unparalleled sense of elegance.
Additionally, the property offers a variety of retail options such as restaurants and cafes located along the pedestrian wooden promenade adjacent to the Dilmunia water canal, making it one of the key attractions on Dilmunia Island, it stated.
Bareeq Al Retaj pointed out that its unique location on the water canal in Dilmunia Island, as well as its contemporary apartments, make it one of the most prominent urban development projects in the kingdom.
The top-level entertainment area of the building comprises a fully-equipped gym designed with the latest technology with a sea view, an amazing infinity pool with relaxation area, a children's pool, barbecue area, sauna rooms, and a multi-purpose lounge for social events, it added.
On the new project, Dr Maher Al Shaer, Vice Chairman and Managing Director of Bareeq Al Retaj, said: "We are delighted to participate in Cityscape Bahrain for the second consecutive year to showcase our landmark 'Strata At Dilmunia' development. This premier event provides a unique platform to promote the project's attractive features and prime waterfront location on Dilmunia Island."
Dr Al Shaer said: "The Bareeq Al Retaj pavilion at Cityscape Bahrain 2023 offers visitors the opportunity to get a closer look at some of our leading urban projects and to learn more about the features we offer. As for the 'Strata At Dilmunia' project, we believe it reflects a unique image of our commitment to excellence and innovation in the real estate market."
"Through our participation at the expo, we aspire to attract potential investors who share our vision of creating exceptional urban projects in the Kingdom of Bahrain, where the 'Strata At Dilmunia' project is a testament to our dedication in providing quality and value to our clients, and we seek to share this vision with visitors," he added.-TradeArabia News Service