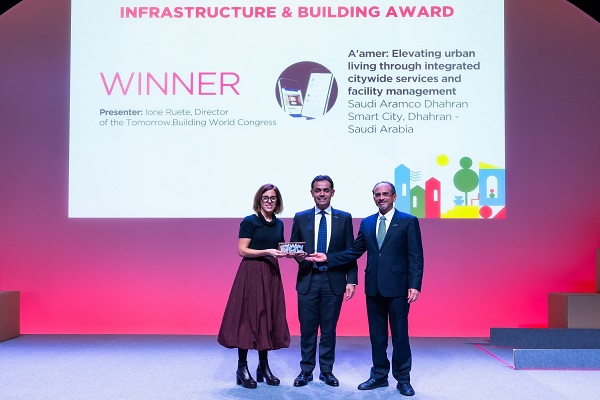 Saudi oil giant Aramco has been recognised on the global stage for its adoption of Internet of Things (IoT) and Artificial Intelligence (AI) technology with its smart city platform A'amer winning the Infrastructure & Building Award at the World Smart City Awards held in Barcelona, Spain.
The A'amer platform has revolutionised the management of residential and commercial facilities and services at the company's Dhahran headquarters.
It optimises building operations, space planning and asset management across Aramco's Dhahran facilities, using centralised data to predict, detect and solve issues. It enables predictive, data-led maintenance and operation of all city services with an accessible, unified public service interface, said the statement from Aramco.
The platform provides substantial efficiency and sustainability-focused benefits, including annual savings of 1.7 billion gallons of water and 20.5GWh of annual energy.
It has also resulted in a 31% increase in process optimization, a 40% increase in steps automation and over a 30% increase in efficiency, it added.
Aramco's award for A'amer, which elevates urban living through integrated citywide services, was collected by the company's Community Services team.
Talal Al Marri, Senior Vice President of Community Services, said: "We are thrilled to be recognised on the world stage for our work in smart city development, which is essential to meet the changing needs and expectations of urban communities. Our aim is to provide not only basic services like transportation and utilities but also a range of amenities and services that enhance people's quality of life."
"As our understanding of cities evolves, so too must their infrastructure to reflect an increasingly interconnected, technology-driven and more sustainable way of living," he stated.
Nabil Al Nuaim, Senior Vice President of Digital & Information Technology, said: "This award is a proud moment for us and a recognition of the positive impact we are making through the deployment of cutting-edge digital technologies, such as IoT and AI."
"The A'amer platform is a prime example of how Aramco is harnessing the Fourth Industrial Revolution to positively shape its operations and enhance the lives of its employees, both inside and outside the workplace," he added.-TradeArabia News Service