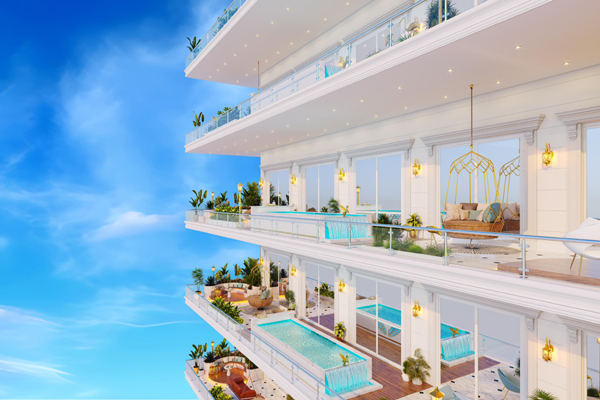 Vincitore Realty, a key UAE developer of residential properties and a pioneer in branded realty, has announced the launch of its sixth project in Dubai - Vincitore Aqua Dimore - with a development value over AED1.2 billion ($327 million).
The project will come up at Dubai Science Park (DSP), a new community that boasts dozens of facilities and amenities that is set to redefine affordable luxury and help attract more buyers and investors to the market, said the developer in a statement.
Set for competion in Q4 2026, the project aims to redefine aqua resort living with key facilities such as designer private pool, outdoor patio with bar counter, private garden and terrace swing.
According to Vincitore, the Aqua Dimore project offers a sky villa concept that elevates private resort living to new heights.
The project will offer a mix of a palatial studio, one-, two- and three-bedroom residences with designer private pool starting at AED695,000 ($18,919), it stated.
Veer Doshi, Director of Vincitore Realty, said: "Affordable luxury is no longer an aspiration; it's a reality. With Vincitore, we are actively responding to the evolving needs of the market, and we believe this project will set a new benchmark for real estate industry in Dubai."
"Our past projects like Palacio, Boulevard, Benessere, Volare, and Dolce Vita stand testimony to our legacy of quality and our far-sighted vision when it comes to understanding Dubai's real estate market," he noted.
According to Doshi, the group's latest project combines the best of both worlds - affordability and luxury.
"With a deep understanding of the evolving preferences of our clientele, we've crafted a development that redefines the standards of world-class living at an affordable price in Dubai," he noted.
"It will deliver branded designer apartments - each of them carefully designed to offer maximum liveable space while maintaining the classic architectural design that will make it stand out from the rest. The indoors of the branded aqua residence will welcome the residents to an eternal splendour of the Italian Architecture together with ornate ceilings," he stated.
Unveiling flexible payment options, Doshi said: "Buyers can avail all the luxury with a 1 percent monthly payment plan and benefit from a guaranteed 8 percent return on investment for the first three years."
Strategically located, the project site is just two minutes away from an upcoming metro station, and well-connected to Mohammed bin Zayed Road, Sheikh Zayed Road, Al Khail Road, Umm Suqeim Road and the city's other arterial roads.
Vincitore Aqua Dimore is designed to usher in a new realm of Aqua Living that boasts a variety of game-changing features and benefits geared to shift the dynamics of the Dubai property market, he added.-TradeArabia News Service