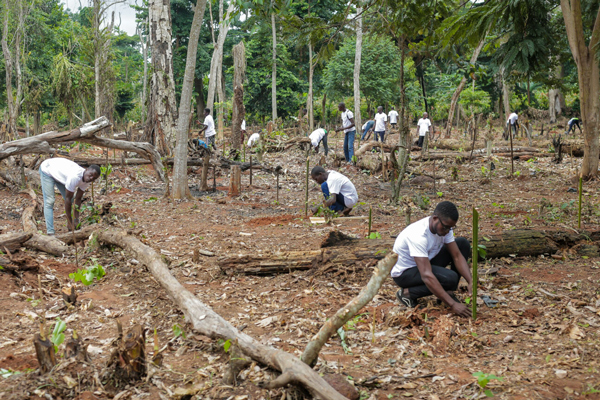 A forest restoration taking place
Ardian, a world-leading private investment house, and aDryada, a French operator for forest restoration and biodiversity, have announced the launch of Averrhoa Nature-Based Solutions.
This strategy, entirely dedicated to large-scale nature-based projects, aims to generate a significant impact in favour of the climate, biodiversity and in respect to local communities.
It will deploy around 1.5 billion euros ($1.58 billion) worth of projects and capital worldwide, mainly in emerging markets and developing economies, as well as local populations.
Quality projects
Ardian and aDryada join forces to build and develop a portfolio of projects by combining their expertise. Together, aDryada and Ardian already benefit from significant experience in investing in energy transition and reforestation projects. They will be able to identify quality projects and support their long-term development with states and local communities.
Since the ratification of the Paris Agreements, governments and companies have adopted ambitious long-term carbon emission reduction targets. Record investments are being made to mitigate future emissions through electrification, low-carbon energy production and efficiency improvements.
However, the scale of the challenge demands that carbon sequestration also plays a role both in addressing existing emissions into the atmosphere and in offsetting hard-to-remove future emissions.
According to the Intergovernmental Panel on Climate Change (IPCC), in scenarios that limit warming to 1.5°C, sequestered emissions must be rapidly scaled up in the short term, enabling the elimination of 0.5 to 1.2 Gt of CO2 per year by 2025, and then 6 to 10 Gt of CO2 per year worldwide.
Voluntary carbon credit market
The voluntary carbon credit market is set to grow strongly over the next few decades, because of the global consensus on the need to rapidly increase the planet's sequestration capacity and the growing ambitions of economic players in this area.
The market for carbon credits is set to grow by a factor of c. 35 between now and 2050. Global demand for voluntary carbon credits has already almost quadrupled over the past five years, rising from 43 mt CO2e in 2017 to 155 mt CO2e in 2022. From this perspective, nature-based solutions, and especially those linked to carbon sequestration in ecosystems and forests, are an essential response to corporate climate and biodiversity objectives, while bringing sustainable economic and social benefits to local communities.
The Averrhoa Nature-Based Solutions' strategy meets the criteria of an impact fund with the aim of reducing global GHG emissions, in accordance with article 9 of the European SFDR regulation. The Averrhoa Nature-Based Solutions fund will be managed by Ardian France, with aDryada acting as advisor.
Leading investor
"Ardian aims to be a world leading investor in nature restoration projects. In line with the Paris Agreement's objective to limit temperature rises to 1.5°C by 2050, our projects will make an important contribution to capturing around 5Gt per year of unavoidable carbon emissions by that date," said Mathias Burghardt, Member of the Executive Committee and Head of Infrastructure, Ardian.
"Ardian continues its pioneering commitment to the energy transition with Averrhoa Nature-Based Solutions, which benefits from the experience of Ardian's infrastructure team in investing in climate action and the energy transition, and that of aDryada in developing projects related to biodiversity and the energy transition. Averrhoa Nature-Based Solutions aims to invest in long-term forest, mangrove and wetland restoration projects, enabling the sequestration of around 150 million tonnes of carbon and substantial net gains in terms of biodiversity and socio-economic benefits for local populations," said Laurent Fayollas, Deputy Head of Infrastructure, Ardian.
"Averrhoa Nature-Based Solutions aims to create long-term environmental and social value. aDryada's track record will enable us to build a portfolio of solid, high-quality projects. We are proud to partner with Ardian in the launch of this strategy which, through its ambition - of the order of 1.5 billion euros invested in quality sequestration projects, particularly in emerging countries - will help accelerate action to combat climate change and restore biodiversity," said Fabio Ferrari, CEO, Adryada.--TradeArabia News Service