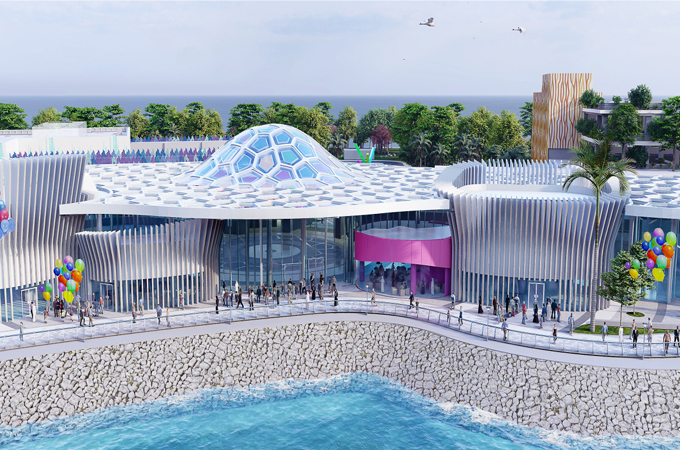 Saudi Entertainment Ventures (Seven), a wholly owned subsidiary of the Public Investment Fund (PIF), has awarded the contract to build the new entertainment destination in Yanbu to a joint venture (JV) of Al Bawani Co and UCC Saudi.
Construction is already underway on the project with an investment value of over SAR1.1 billion ($293.27 million).
Seven's entertainment destination in Yanbu is located along the seafront promenade on Al Nawras Island and has been designed to play a pivotal role in the city's entertainment sector. The project will offer guests a wide variety of experiences designed to engage all age groups.
Seven Yanbu is designed by Gensler, a global architecture, design, and planning firm and is inspired by the city's heritage as a historic port located on the kingdom's western Red Sea coast. The design is a celebration of water, with elements of the beach and the sea threaded throughout.
Abdullah AlDawood, Chairman, Seven, said: "Our entertainment destination in Yanbu will provide residents and visitors with a wealth of new and exciting experiences while supporting the city's rapidly developing entertainment sector. Seven's entertainment destination is inspired by Yanbu's beautiful natural seascape, embodying the city's the rich history as one of the oldest ports in the Kingdom. Seven Yanbu will offer something for everyone."
Fakher Al Shawaf, Chairman and Group CEO, Al Bawani Co, said: "We are excited to partner with Seven to deliver this project. The design has taken into consideration Yanbu's coastal location and its history as one of the oldest ports in Saudi. Seven's investment will support Yanbu's growing population to meet its entertainment needs. Al Bawani is well-positioned to deliver this unique destination to meet the ever-growing aspirations of Saudis."
Ramez Al-Khayyat, the President of UCC Holding, stated: "We are delighted to spread joy in Yanbu through our partnership with Seven. We will leverage our extensive experience in building entertainment destinations to deliver the project on time, to the highest international standards."
Seven Yanbu will be home to an immersive carnival themed family entertainment centre with world class rides. Other attractions will include a Clip 'n Climb facility providing 30 climbing challenges for both adults and children to enjoy, a junior family entertainment centre, a state-of-the-art 10-screen cinema, a futuristic neon 10-lane bowling experience, a fun-filled indoor adventure golf course, as well as a wide variety of local and international retail and dining experiences.
Seven is investing more than SAR50 billion to build 21 entertainment destinations which will provide unique and innovative world-class entertainment experiences and global partnerships from within the sector. It recently announced the beginning of construction of its entertainment destinations in the Al Hamra district of Riyadh and Tabuk. The upcoming projects are located in 14 cities across the kingdom: Riyadh, Kharj, Makkah, Jeddah, Taif, Dammam, Khobar, Al Ahsa, Madinah, Yanbu, Abha, Jazan, Buraidah, and Tabuk.
Saudi Entertainment Ventures is mandated to invest in, develop, and operate entertainment destinations and create a sustainable entertainment sector that caters to the needs of all in Saudi Arabia, in accordance with the highest and latest international standards. - TradeArabia News Service