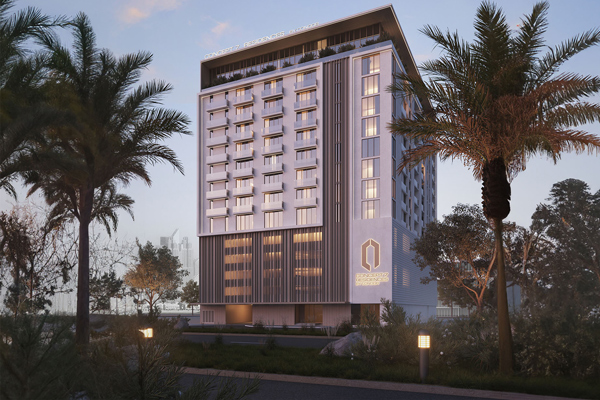 An impression of the project
Devmark, a leading real estate project sales and marketing consultancy, has partnered with Condor Developers to launch Concept 7, an exquisitely furnished residential project in the heart of Jumeirah Village Circle (JVC).
Positioned strategically in one of Dubai's prime neighbourhoods, Concept 7 represents a paradigm shift in residential living that brings a groundbreaking concept in modern lifestyle—offering a selection of spacious residential options, from studios to one and two-bedroom apartments, spanning between 409 sq ft and 1270 sq ft.
Enveloped in stylish Ecru-designed interiors with premium fixtures and fittings, each unit embodies sophistication and innovation, providing residents with a distinct and personalised living space. Each apartment is an architectural masterpiece with a private balcony fully furnished and equipped with superior facilities.
Array of amenities
Curated with contemporary demands, Concept 7 redefines luxury living in a post-Covid world. Embracing the shift towards home-centric lifestyles and hybrid work models, Concept 7 unveils a wide array of amenities, including an adult and kids' pool, a rejuvenating wellness centre, a dedicated pet play area, and an efficient co-working space to cater to its residents' ever-changing demands.
The launch of Concept 7 coincides with a thriving period for Dubai's real estate market, which has grown 43% in value year-over-year to AED33.7 billion ($9.2 billion) in August, according to Property Finder. Amid strong economic growth, demand for property in Dubai remains robust, with upcoming locations like JVC recording nearly 1,000 transactions worth AED774 million early this year, as reported by Zoom Property.
Sean McCauley, CEO of Devmark, said: "We are thrilled to collaborate with Condor Developers to introduce Concept 7 to the heart of Jumeirah Village Circle. As designers and developers become increasingly aware of the invaluable insights gleaned from analysing buyer trends, Concept 7 emerges as an innovative development poised to transform the user experience."
Best-performing district
He continued: "JVC is known for its sense of community and has seen a surge in demand for apartments in recent years. Our research indicates the area is one of the best-performing districts in Dubai, representing 11% of all new project launches. Concept 7 is an outstanding addition to JVC, delivering superior quality and promising residents a lavish living experience in a contemporary setting, complete with amenities that appeal to modern homebuyers."
Vidhyadharan Sivaprasad, Chairman and CEO of Condor Developments, said: "It is an incredible pleasure to work with Devmark on the launch of Concept 7 and to bring modern living to one of Dubai's prime residential neighbourhoods. As a true icon of distinction in the city, Concept 7 is a testament to our steadfast commitment to quality and luxury, evident in every detail. We look forward to welcoming our valued residents to Concept 7, which, with its modern and stylish facilities, is positioned for enormous sales success, reinforced by Devmark's proven track record."
With project completion expected in 2024, Devmark is now accepting bookings with both post-handover and non-post-handover payment plans, offering an exclusive opportunity to experience luxury living.--TradeArabia News Service