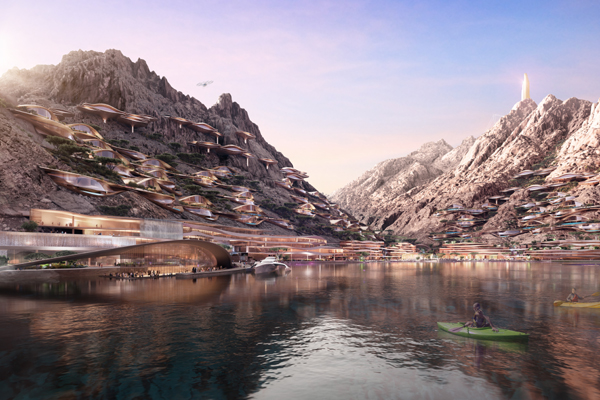 NEOM, the developer of a mega futuristic city in Saudi Arabia, will be showcasing the Future of Living with its flagship developments - The Line, Trojena, Sindalah and Oxagon - at the upcoming Cityscape Global real estate event in capital Riyadh.
Cityscape Global is the world's largest real estate conference and expo which kicks off at the Riyadh Exhibition and Convention Center on September 10 and runs until September 13.
NEOM, as a Founding Partner of the inaugural Saudi real estate event, seeks to connect with prospective future residents, visitors, investors and partners as it progresses from concept to construction.
NEOM is an accelerator of human progress and a vision of what a New Future might look like. It is a region in northwest Saudi Arabia on the Red Sea being built from the ground up as a living laboratory – a place where entrepreneurship will chart the course for this New Future, said experts.
It will be a destination and a home for people who dream big and want to be part of building a new model for exceptional livability, creating thriving businesses and reinventing environmental conservation.
NEOM will include hyperconnected, cognitive cities, ports and enterprise zones, research centers, sports and entertainment venues and tourist destinations.
Visitors to event are set to experience the future of living, courtesy of an immersive exhibit and informative presentations by NEOM.
The NEOM Future of Living Summit main stage will host a range of world-leading speakers, thought leaders and decision makers exploring themes such as smart cities, sustainability, urban planning, digital transformation, and the ideas that are shaping a new future balancing business, people and planet, said a senior official.
"NEOM is the vision of His Royal Highness the Crown Prince for a new future for people and the planet. It is fast becoming a reality through our flagship projects in collaboration with our world-leading partners. We are excited to present the vision of His Royal Highness for the future of living and showcase our developments to potential residents, partners, investors, and visitors at Cityscape Global," remarked its CEO Nadhmi Al Nasr.
"What we are creating in NEOM represents the opportunity of a lifetime, which will both secure the prospects of the Kingdom of Saudi Arabia and accelerate global progress. The chance to appreciate, understand and share in this transformative vision is not to be missed," stated Al Nasr.
During the three-day event, more than 200 renowned speakers, thought leaders and decision makers will share their insights on the cutting edge of innovative and sustainable practice that is driving transformation of our built environment.
The highlight from NEOM main stage includes a keynote address from Al Nasr and special presentations from some of the minds behind its flagship developments: The Line, a revolutionary vertical city, and Trojena, its year-round mountain destination.
NEOM's exhibition will feature the models of these flagship developments as well as it have live streams of construction progress on site, and immersive VR experiences. Expert teams will be on hand to support attendees in their understanding.
Cityscape Global expects to attract over 150,000 domestic and international attendees during the four-day event, who all share an interest in shaping the future of real estate, property, urban planning, design and architecture.
Alongside NEOM will be exhibitions from the many other flagship developments taking shape across Saudi Arabia, as well as from government organizations, solutions providers, and showcases from across the region and other international markets.-TradeArabia News Service