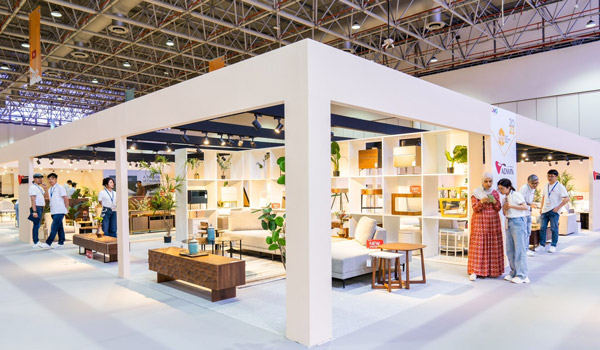 A view of the Hive Furniture Show
The region's dedicated trade and consumer event for the furniture industry -- Hive Furniture Show -- has returned to Expo Centre Sharjah, with the curtains going up on the third edition of the three-day event on June 14.
The event has achieved tremendous growth since its inception in 2021. From a mere 55 exhibitors, the participation has gone up phenomenally to more than 300 for its third edition. With high domestic demand driving consumption, in a short span of three years, the event has managed to acquire the reputation of being the go-to event for high-quality furniture for both the trading community and consumers.
Organised by OMG Exhibitions and Conferences and hosted by Expo Centre Sharjah, the 3rd Hive Furniture Exhibition.
Phenomenal growth
"The growth of the Hive Furniture Show is nothing short of phenomenal. From just over 50 exhibitors in 2021, to over 100 in 2022 and more than 190 in 2023, the event has succeeded in establishing the largest and most comprehensive furniture and home accessories trade event in the region in a very short duration. A growing economy, rising population and job opportunities, and thriving construction and real estate sectors will continue to keep demand high for the industry," said Saif Mohamed Al Midfa, CEO, Expo Centre Sharjah, adding that the event will help attract more foreign investment and contribute to the growth of the manufacturing sector in the country.
With the number of participants growing and visitors expected to cross the 7,000-mark, as against last year's 3,500, the 3rd Hive Furniture Show is spread across 40,000 sq m, featuring more categories, products and better visiting experience to trade and general public.
"It is a matter of great pride that the Hive Furniture Show has struck gold in such a short period of time. We constantly strive to achieve the right mix of exhibitors and expand our show to offer a wider range. This has enabled us to win the confidence of regional buyers who look forward to visiting a show aligned with their requirements of design, quality and quantity," said Manish Bhatia, the organiser of the event, adding that the wide range of furniture, home decor, accessories and linen presented by more than 300 exhibitors from 10 countries at 17,000 sq m make it an exciting mix for buyers.
The show is open from 10 am to 6 pm on Wednesday and Thursday and from 10 am to 8 pm on Friday.
-- TradeArabia News Service