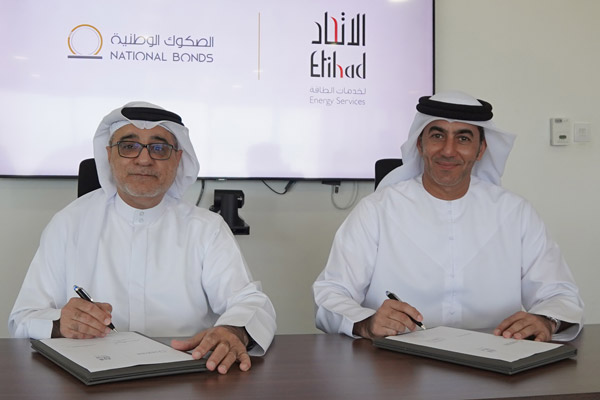 The signing ceremony
National Properties, the real estate subsidiary of National Bonds Corporation, has tied up with Etihad Energy Services Company (Etihad Esco) to initiate a momentous sustainable green transformation across seven landmark buildings.
This groundbreaking collaboration sets a new benchmark for green building practices in the UAE, signifying a major stride towards sustainable development and environmental stewardship.
By capitalising on Etihad's extensive expertise in clean energy solutions and leveraging National Properties' steadfast commitment to sustainable practices, the partnership aims to achieve substantial energy savings. The ambitious project encompasses the implementation of state-of-the-art energy-efficient lighting systems, advanced air conditioning units, smart thermostats, and high-efficiency water fixtures, customised to meet the unique requirements of the seven properties owned by National Properties.
Unwavering dedication
"We are immensely proud to join forces with Etihad in driving a sustainable green transformation in these seven landmark buildings," declared Mohammed Qasim Al Ali, Group CEO of National Bonds Corporation.
"This initiative underscores our unwavering dedication to promoting environmental responsibility and sustainable development in the UAE. By setting an exemplary model with these buildings, we aspire to inspire positive change and create a greener future for generations to come."
He said: "Recognising the paramount importance of prioritising sustainability and advocating for eco-conscious practices in our retrofit projects, we shoulder the responsibility to embrace eco-friendly measures, curtail carbon emissions, and cultivate healthier living environments. By establishing new benchmarks in construction and adopting cutting-edge green solutions, we have the power to leave a lasting positive impact on our environment."
Energy efficiency
Dr Waleed Al Nuaimi, CEO of Etihad, affirmed the organisation's commitment to making Dubai one of the most sustainable cities worldwide. "At Etihad, we are steadfast in our pursuit of accelerating and enhancing energy efficiency while reducing demand and consumption, with the goal of transforming Dubai into a sustainable hub.
"Our strategic partnership with National Properties marks a significant leap forward in this journey. Under this collaboration, we will undertake the National Properties' Seven Buildings Retrofit Projects, a major initiative encompassing energy-saving enhancements for HVAC, lighting, and water systems across seven facilities, aligning with the Dubai Demand Side Management Strategy 2030."
He added: "With a shared objective of expediting the transition to a green economy, we will work hand in hand to achieve the ambitious targets for energy demand reduction outlined in the Dubai Integrated Energy Strategy 2030 by the Dubai Supreme Council of Energy.
"We aim to generate substantial energy savings of approximately 1.4 TWh and 4.9 BIG by 2030, while also reducing CO2 emissions by 1 million tons within the same timeframe. Properties like the National Properties Buildings' Retrofit Projects, combined with our resolute commitment to renewable energy, will play a pivotal role in propelling our city towards a greener and more energy-efficient future."-- TradeArabia News Service