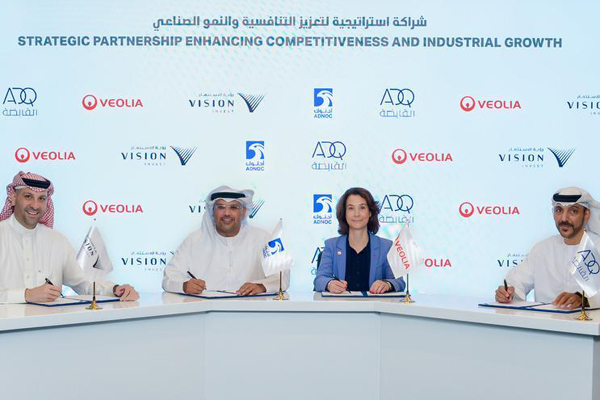 French water management specialist Veolia has announced that its consortium with Abu Dhabi-based investment company ADQ and Saudi-based Vision Invest has reached the financial close for the acquisition of two hazardous industrial waste treatment plants at Al Ruwais Industrial City in Abu Dhabi.
The conditional agreement for this transaction was signed by the consortium with Adnoc Refining in November last year, said the statement from Veolia.
Adnoc Refining is a joint venture between Abu Dhabi National Oil Company (Adnoc) which has a majority 65% stake, Italian energy group Eni with 20% and Austrian oil company OMV with 15%.
It operates the world's fourth largest single-site refinery in Al Ruwais processing more than 922,000 barrels of crude and condensate each day.
As a pioneer and leading provider of hazardous waste management solutions in the Middle East, Veolia will lead the waste management operations in Al Ruwais, leveraging its comprehensive expertise covering the entire hazardous waste treatment chain.
Veolia will have 50.1% participation in the operating company alongside Vision Invest (24.95%) and ADQ (24.95%), said the statement.
The solutions developed by the French water management expert will specifically focus on maximizing the resource recovery (water and oil) from the oil and gas hazardous waste to reuse them in nearby industrial plants, setting up an innovative circular economy and local energy loops.
The consortium will also significantly expand the existing solar farm to produce more locally sourced green energy, it added.
With an annual capacity of nearly 70,000 tonnes, Veolia and its partners will treat the hazardous industrial waste of Abu Dhabi's biggest industrial complex in Al Ruwais, which includes the largest oil refinery in the Middle East.
According to Veolia, the acquisition of plants was financed through a combination of equity and long term non-recourse project finance debt with completion contingent interest rate hedges put in place last November.
Natixis and Arab Petroleum Investments Corporation (Apicorp) acted as the mandated lead arranger and structuring banks. JP Morgan and Natixis acted as the contingent hedge and hedge providers.-TradeArabia News Service