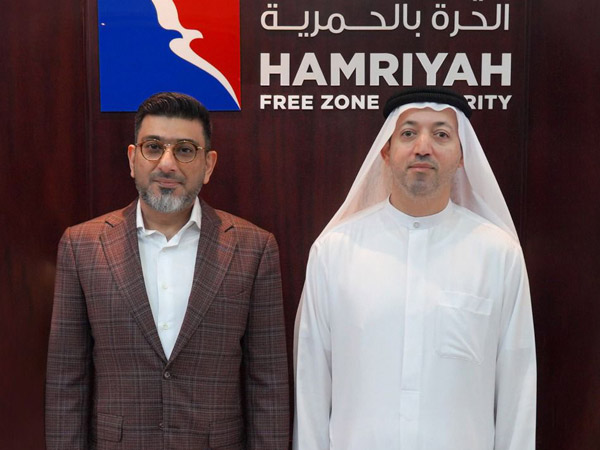 Officials after signing the agreement.
India's Infinite Mining & Energy has signed an agreement with Sharjah's Hamriya Free Zone Authority (HFZA) to set up a multifunctional oil refinery with a daily production capacity of 10,000 barrels.
Infinite announced that is going to double its investment in the free zone and establish the plant with annual refining capability of up to 3.6 million barrels alongside a modern oil storage facility equipped with over 20 loading slots.
Saud Salim Al Mazrouei, Director of the HFZA, and Bilal Merchant, Managing Director of Infinite Mining & Energy FZE, signed an agreement at HFZA headquarters in the presence of senior officials from both sides.
Storage capacity
Under the agreement, Infinite will lease a 200,000-sq-ft plot of land in the free zone to build its facilities. This expansion is expected to significantly increase the company's storage capacity, catering to the growing demand for its services and products.
The free zone serves as a prosperous hub for regional and international companies specialising in the oil industry.
With an ideal business environment and a system of exceptional services and benefits, HFZA continues to stand as a prominent industrial base for international companies in the sector. This latest investment by Infinite further underscores HFZA's success in attracting key players in the oil and energy industries.
Leading position
Al Mazrouei said Infinite's new expansion plans demonstrates HFZA's leading reputation as a preferred investment destination for heavy industries and the petrochemical sector.
"This also reinforces HFZA's appeal and significance in the oil, energy, and various other sectors, a testament to our commitment to the visions and directives of His Highness Dr Sheikh Sultan bin Mohammed Al Qasimi, Supreme Council Member and Ruler of Sharjah, which have transformed the free zone into a role model, showcasing a strong return on investment and an ideal environment for establishing key projects, thereby becoming a vital contributor to the national economy," he said.
Al Mazrouei added: "Infinite's new facility will be a significant addition to the emirate's burgeoning economic landscape through its production volume, which caters to the demand for energy products and derivatives for both existing and future industrial projects."
High global standards
He said the company's choice of Hamriya Free Zone underscores the high global standards and the favourable investment climate HFZA offers to investors in the energy and oil sectors.
"As of today, the free zone houses over 1,200 companies, including major international corporations specialising in this sector. They operate within a dedicated area for petrochemical industries, which boasts a strategic location and is connected to a commercial port with a depth of 14 metres."
"This strategic positioning supports import and export operations for our investing companies, offering easy access to major markets. Coupled with our range of distinguished services, state-of-the-art infrastructure, world-class logistics services, and facilities, we have grown to become the second-largest petrochemical center in the country," Al Mazrouei added.
Merchant said: "Infinite began operations in the Hamriya Free Zone in 2018, and our plans to set up a multifunctional oil refinery is a testament to our strategic expansion to broaden our reach in both regional and international markets.
"HFZA's strategic geographical location aligns perfectly with our company's specialties in the petrochemical, metallurgy, and energy sectors, enabling us to maintain direct interactions with leading manufacturers both locally and globally."
He also highlighted the competitive advantages offered by the free zone accelerate our ability to reach a larger customer base in the most efficient, speedy, and cost-effective manner.
Merchant said: "Upon completion, the new facility is set to create over 100 job opportunities for technicians and workers, thereby contributing to the local employment landscape."-TradeArabia News Service