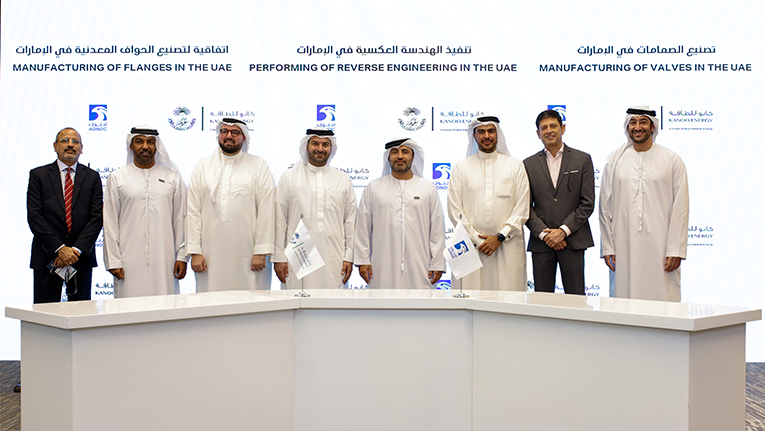 Kanoo Energy, a leading provider of services to the industrial sector in Bahrain and Saudi Arabia, has signed three separate agreements with Abu Dhabi National Oil Company (Adnoc) for manufacturing of valves, flanges and establishment of reverse engineering facility in the UAE.
These agreements outline the intention of the companies to explore manufacturing valves, flanges and establishment of reverse engineering facility in the UAE, supporting the 'Make it in the Emirates' initiative and the 'Abu Dhabi Industrial Strategy.'
The products are part of the $19 billion worth of products in Adnoc's procurement pipeline that the firm identified for domestic manufacturing in July 2022.
The agreements were signed by Fahad Kanoo, CEO UAE & Oman and Dr Saleh Al Hashimi, Adnoc Director, Commercial and In-Country Value Directorate at the recent 'Make it in the Emirates Forum' organized by the Ministry of Industry and Advanced Technology (MoIAT) in collaboration with the Abu Dhabi Department of Economic Development and Adnoc.
In addition to showcasing the UAE as a global hub for manufacturing and innovation, the forum sought to promote sustainability and reduce and eliminate carbon emissions within the industrial sector in line with objectives of the 'Year of Sustainability', the UAE's Net Zero by 2050 strategic initiative, and its preparations to host COP28.
The signing ceremony was attended by senior officials including Manoj Kumar Tripathy, the CEO of Kanoo Industrial & Energy, Hesham Nass, the Country Manager for UAE at The Kanoo Group, Raman Marwaha, the General Manager of Kanoo Energy UAE & Oman, and Abdullatif Kanoo, the Business Development Manager at Kanoo Group.
Last year, Adnoc had signed agreements for local manufacturing commitments worth more than $6.8 billion with UAE and international companies.
The Abu Dhabi group said it continues to take a transparent approach to showcasing its product outlook as part of its ICV programme.
This approach underscores its efforts to ensure business continuity and incentivize investors and suppliers to set up or expand manufacturing capacity in the UAE.
The Abu Dhabi group aims to drive $48 billion back into the UAE economy through its ICV programme as part of its five-year business plan for 2023–2027.