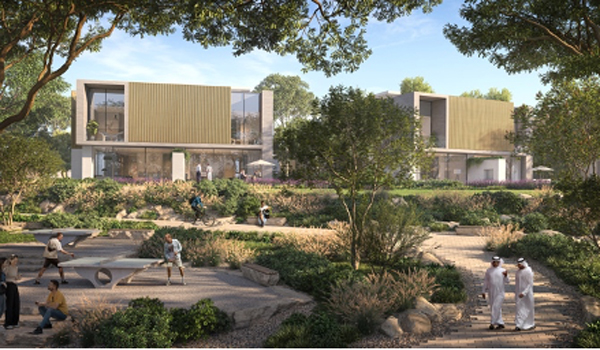 One of the projects
The Devmark Group has been selected as the exclusive sales and marketing partner for Expo City Dubai's residential communities, the newest additions to Dubai's burgeoning property market.
The development is set to become the most coveted residential destination in the region, offering a remarkable lifestyle experience that balances contemporary urban living with environmental consciousness.
The Devmark Group, a leading real estate project sales and marketing consultancy in the UAE, has been selected as the exclusive sales and marketing partner for the development, commencing with the release of two outstanding residential projects: Expo Valley, a collection of smart and sustainable villas and townhouses, and Mangrove Residences, an inclusive, wellness-focused apartment complex that emphasises eco-friendliness.
Industry leader
Sean McCauley, CEO of The Devmark Group, stated: "This cements our position as an industry leader in providing comprehensive real estate consulting services. With the introduction of our first two communities, Expo Valley and Mangrove Residences, we aim to offer future residents of the community a sustainable lifestyle and a 15-minute city where families can flourish and prosper."
Ahmed Al Khatib, Chief Development and Delivery Officer at Expo City Dubai, said: "We are launching these visionary residential developments at Expo City Dubai, building on the proven success of Expo 2020 and driven by a commitment to create a new way of smart, sustainable, regenerative, people-centric urban living. Working alongside The Devmark Group, with its impressive track record in launching developments in Dubai, we look forward to bringing our exceptional projects to the real estate community, paving the way for a growing city that will serve as a blueprint for the way we live in the future."
Expo City is a cutting-edge, sustainable living master community that offers residents a healthy, fulfilling, and environmentally conscious lifestyle. Adjacent to Expo City Dubai is Expo Valley, an exclusive collection of 532 villas and townhouses designed to foster a sense of community while maximising privacy.
Nature reserve
Residents can enjoy the serenity and beauty of nature from their doorstep, as it boasts a stunning nature reserve, lake, and wadi, with triple the amount of greenery in comparison to any other project in the region. The development is the first in the region to be registered under the WELL Community Standard pilot, a framework that prioritises the health and well-being of all residents, evidenced by the recreational, educational, and wellness opportunities provided, including hiking trails, cycle paths, and natural playgrounds for families to enjoy. The location will also feature convenient retail choices and easy connectivity to the attractions of Expo City Dubai through a green pedestrian bridge.
Designed by award-winning architecture firm U+A, Expo Valley features expertly crafted 4- or 5-bedroom villas and duets and 3- or 4-bedroom townhouses with open front and back areas and transparent fencing, providing residents with ample space to live, connect and grow sustainably.
The villas have been thoughtfully curated to offer seamless integration of indoor and outdoor living with large sliding doors connecting the interior spaces to the garden and subdued natural and contemporary materials and colours that blend with the habitat, mirroring the natural surroundings to enhance the sense of sustainability, ecological awareness, and simple design.
In addition, Future residents will have access to walk-in closets, 25 sq m swimming pools, flexible office and gym space, and basement parking.
Mangrove Residences
Mangrove Residences, located at the heart of Expo City Dubai, features 450 luxury and premium residences designed by the renowned architecture firm DPA, including one- to three-bedroom apartments, four-bedroom loft apartments, and three-bedroom townhouses with their private garden featuring floor-to-ceiling windows, and spacious balconies offering expansive views of Expo City Dubai.
Curated for guests to immerse themselves in an urban lifestyle, the residential complex combines intelligent, sustainable design, resort-style amenities, and easy access to the city and its various attractions. The interiors are finished with bespoke porcelain flooring with facilities catering to the ideal modern family, with amenities like swimming pools and a separate kids' pool for the children to enjoy while parents lounge and unwind at the pool deck bar. Ideal for some downtime, the residences also feature BBQ areas, an outdoor dining pavilion, a kids' play area, and various lounges that can be utilised for co-working spaces or relaxing with friends and watching movies.
Mangrove Residences is full of energy and inspires a health-conscious, wellness-focused, community-centric, and environmentally aware community, with three floors devoted to community activities. These include podium gardens and sky terraces offering spaces to enjoy with family and friends with homes that overlook stunning and unobstructed views towards Al Wasl Plaza, Jubilee Park, and the Women's Pavilion.
The Devmark Group, the Master Agent for all residential properties in Expo City Dubai, has introduced Expo Valley and Mangrove Residences on March 15, with completion anticipated for January 2026.-- TradeArabia News Service