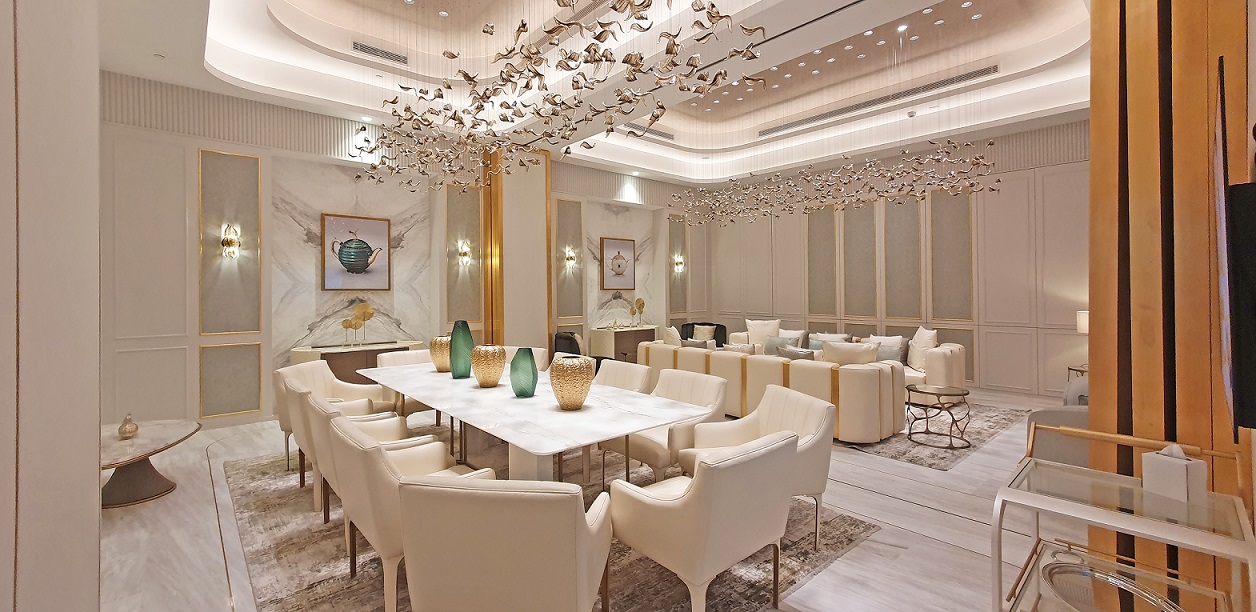 UAE-based group The Fitout said it has completed the interior works for a cafe in Abu Dhabi. It features the group's sustainable range of solutions including a folding partition made of gold leaf, a 10-m floating table in the reception, and a golden metallic mesh.
The Fitout, one of the leading service providers of comprehensive interior solutions in the Middle East, said it has successfully completed the latest interior developments for the Newby Tea Cafe in Abu Dhabi.
The cafe features The Fitout's unique and sustainable range of interior solutions, which also involved civil, floor, and lighting work among others. The project's success was enhanced by its early completion, adding another milestone to the company's growing record of accomplishments.
The Fitout used its distinctive range of interior solutions to develop the latest branch of the Newby Tea Cafe, with some of the key elements being a folding partition made of gold leaf, a ten-meter floating table in the reception, and a golden metallic mesh.
The company also undertook civil work, such as building walls and partitions, as well as screeding and waterproofing solutions for wet conditions. The ceiling work, which included gypsum ceilings and metallic panels for the reception spaces, along with flooring works such as self-levelling, carpet works, parquet flooring, and more, were successfully managed by the professional teams of The Fitout.
General Manager Sherif Nagy said: "Since its inception in 1987, our company has grown to become a reliable provider of complete interior solutions that meet the highest standards in regard to both quality and services. As one of the leading suppliers of customised high-end joinery works and fit-out solutions, our recent completion of the Newby Tea Cafe has once again demonstrated our passion for quality finishing and interior solutions. Newby Tea has a proud history as an award-winning luxury tea brand."
"We were committed to maintaining the authenticity and richness of this brand throughout the project, which allowed us to deliver elegant interior designs for the brand. With many more similar projects in the future, we are confident that we can further solidify our position as a reliable provider of fit-out solutions," he added.
The highest levels of quality were also met for the wall finishes, which included the use of an emulsion paint finish, premium wallpapers, marble cladding, FR MDF cladding, and moulding.
Along with providing an adequate amount of lighting with LED strips, spotlights, and SS fixtures, the company also made sure to include advanced glass works, door finishes, and other joinery works like coat hangers, pantry lounges, and cabinets for the female lounge.
All MEP (mechanical, electrical, and plumbing) works were also completed with the utmost professionalism to guarantee the safety and comfort of customers of the Newby Tea Cafe.-TradeArabia News Service