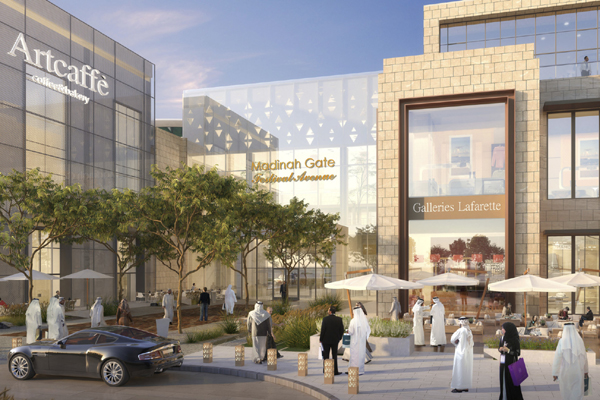 Saudi developer Knowledge Economic City (KEC) has awarded a contract worth SR49 million ($13 million) to Mohammed Al-Rashed Trading and Contracting Company (Marco) for the construction of a bus station within its Madinah Gate development.
The scope of work includes the development of the bus station along with retail outlets facing the main plaza of the train station and directly linked to the main mall of the Madinah Gate project to serve travellers and visitor of Madinah, said KEC in its filing to the Saudi bourse Tadawul.
Madinah Gate project consists of three main components in its first phase being built on an area of about 22,000 sq m, with a built-up area of 33,000 sq m excluding the car parks and the hotel areas.
The first component is the bus station with its retail shops directly connected to the train station, while the second and third components are represented in the 4 stars hotel with its 325 keys operated and managed by Hilton through the Double Tree by Hilton brand, and a mall include retail, shops, restaurants and a recreational zone providing a total 22,000 sq m rental area.
The hotel and main mall will be developed by Riyad Capital Fund of which KEC owns 75% of its capital. The Saudi group will also act as the development manager for the Madinah Gate project with all three components.
The development of the hotel and the mall has been assigned by Riyad Capital to the same contractor, Marco, as an integrated development with the bus station to benefit from the advantages of quality execution, time and cost saving, stated the bourse filing.
The construction work could take up to two years, the company said.
Madinah Gate is a vast redevelopment of land adjacent to the Haramain high-speed railway station in the city.
It will include a four-star hotel and a bus station connected directly to the train station, a commercial and entertainment center with 23,000 sq m of leasable area containing 78 shops, 39 restaurants and cafes, two entertainment centres, a cinema with 800 seats, and 800 parking spaces.-TradeArabia News Service