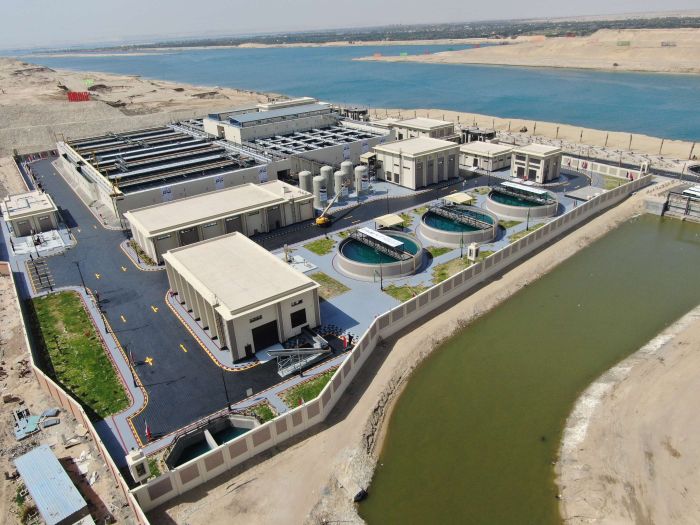 Borouge, a leading petrochemical company providing innovative, value-creating polyolefin solutions, has partnered with Krah Misr, a leading manufacturer of large diameter pipes and fittings, to supply infrastructure solutions for the world's largest wastewater treatment plant, Bahr Al Baqar Wastewater Plant.
Borouge is a joint venture between Abu Dhabi National Oil Company (Adnoc) and Austrian chemical giant Borealis.
Situated in the northwest of Egypt, the $1.27 billion world-scale plant will boost Egypt's water resources used to irrigate agricultural land, while decreasing the risk of contaminated water entering agricultural, industrial, and municipal water. It was recently inaugurated by Egyptian President Abdel Fatah Al Sisi.
Borouge and Krah Misr have harnessed their strengths to supply Bahr Al Baqar Wastewater Plant with spiral wound polyethylene pipes, meeting its 5 million cu m daily processing capacity needs.
The pipes include 2.7 km of 1,600-mm and 2,500 mm diameter spiral wound polyethylene pipes for low-pressure applications. The pipes were made using raw materials supplied by Borouge, which employed BorSafe HE3490-LS technology – capable of withstanding large diameter pressure, intake/outfall and multi-gravity applications, said the statement from Borouge.
BorSafe HE3490-LS is easily processed by its customers worldwide and is highly agile – used either for solid-wall pressure pipe extrusion in large diameter or in spiral wound pipe configurations.
Borouge's water piping application significantly lowers installation costs, operational costs, and maintenance costs for its customers and end-users, as compared to other materials, it stated.
Most importantly, BorSafe HE3490-LS requires significantly lower energy consumption to be manufactured. These factors cut carbon emissions generated during the manufacturing process of the pipe and its operational lifespan. Pipes made of BorSafe HE3490-LS can also be recycled at the end of their lifecycle.
Khalfan AlMuhairi, Senior VP (Middle East and Africa Exports) Borouge said: "It gives us great pleasure to be part of the success of the Bahr Al Baqar Wastewater Plant, which won the Guinness World Record for world's largest water treatment plant."
"Borouge continues to expand its footprint in Egypt and beyond, by unlocking opportunities for customers to be more competitive, operate more efficiently, and minimise environmental impact – without ever compromising on quality," he stated.
Peter Youssef, General Manager of Krah Misr said: "As the pioneer producer of large spiral wound HDPE pipes in Egypt, we are proud to have successfully delivered one of the largest spiral wound pipes in the country. We are glad to have partnered with Borouge in this aspect."
The treated water from Bahr Al Baqar will be used to irrigate 140,000 hectares of farmland alongside the Suez Canal and help address water scarcity in Egypt, he added.-TradeArabia News Service