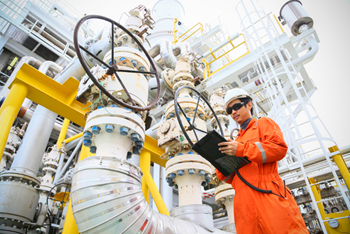 SINCE technologies are rapidly evolving in all areas of the economy, firms face the growing challenge of equipping their workers with the necessary skills. Here, the right competence management system can help.
We at RelyOn Nutec offer a market-leading competence management software application. Our competence management services help with all aspects of keeping a workforce fully competent.
When talking about competence, people often falsely assume that training equals competence. Even though the two certainly are interlinked, they are not the same.
WHAT IS COMPETENCE?
Competence is an ongoing process, not simply a means to an end. Competence ensures that workers are able to carry out their daily operations safely and know how to react and deal with critical situations.
In order to become a competent worker, skills and knowledge – which can be gained through training – play an important role. However, experience is of equal importance.
Experienced workers react more calmly and safely to critical incidents, and it is, therefore, important that companies ensure their workers gain enough experience before carrying out difficult or dangerous tasks by themselves in order to maintain high levels of competence. But how does one assess and ensure ongoing competence?
COMPETENCE ASSESSMENT
Competence assessment should happen during normal operations, when workers carry out their daily routine.
To measure a worker's competence correctly, the assessment process should be as unintrusive as possible so that it does not impact or interfere with the daily tasks.
Assessment, therefore, normally takes place at the workplace and at the time that one is naturally undertaking the activity. Only critical situations and emergency response scenarios should, for obvious reasons, be simulated.
Ideally, when assessing competence, individuals just go about doing what they do any way, while the assessment captures the proof of competence simultaneously.
This is primarily done through the method of direct observation, by designated and qualified assessors.
Additionally to the observed activity, things like discussions or pre-set questioning provide a record of knowledge assessment.
On some occasions individuals might be asked to gather and present supporting documentation for their competence.
Back in the day, this used to be a costly and time consuming process, since assessment needed to be documented manually, which often led to big and confusing excel sheets.
Fortunately, a competence management software can help simply this process: Our competence management software application provides real-time visibility of the competence status of the workforce, supports pro-active planning of assessments and maintains and provides a full (historical) record of all assessments done.
Our dedicated assessment app works online and offline, providing a highly flexible and efficient method of assessments.
The app includes the creation of image or video evidence and automatic updating of central records the instant the assessment is complete.
COMPETENCE ACCREDITATIONS
Organisations can consider applying for accreditation of their competence management framework with one of the accreditor bodies - OPITO and IADC.
This can be done by demonstrating that they have the right procedures in place and by demonstrating a solid competence management framework.
From an organisational perspective it is important to not only focus on meeting certain criteria, but on aligning internal processes to fully embrace competence management to bring out the best of the company.
A fully integrated approach can help save time and resources, since it encompasses all stages from recruitment to training and promotion.
DEMONSTRATING COMPETENCE IS IMPORTANT
By ensuring that workers carry out their tasks safely and responsibly, competence significantly reduces the risk at the workplace. Especially in safety-critical industries, like the oil and gas industry, a safe work environment is of the highest importance.
Ensuring high levels of competence not only has internal benefits, but clients often feel more inclined to engage with firms that have a solid competence management framework in place.
Getting their competence framework accredited might, therefore, help organisations attract new clients and improve the level of trust between firm and client.
A robust competence system will deliver real value to a business by not only satisfying the expectations of clients and regulators, but also providing a platform for continuous improvement.
However, companies often feel overwhelmed when creating a competence management framework, since there is very little guidance on how to properly deal with competence.
We at RelyOn Nutec aim to support organisations throughout the whole process – from assessing what processes a firm already has in place, to defining competencies and training goals, to implementing the competence management framework and getting the right accreditation.
Our competence management service ensures that firms develop the correct framework, maintain that framework in line with international standards, and makes sure the competence framework remains relevant and up to date with global industry standards.