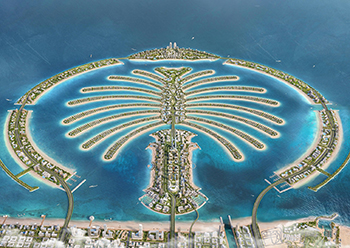 Palm Jebel Ali boasts the longest coastline of any destination in Dubai.
Nakheel, a Dubai-based world-leading real estate master developer, has launched one of its most visionary projects, Palm Jebel Ali, on the market with the release of the first villas available to purchase on the island. This follows the unveiling of the island's futuristic masterplan by HH Sheikh Mohammed bin Rashid Al Maktoum, UAE Vice President and Prime Minister and Ruler of Dubai in June this year.
The highly anticipated release centres around four fronds which feature Coral villas and Beach villas, each of which is available in eight unique styles. Both types of villas draw inspiration from the beauty of nature and set the scene for the future of Palm Jebel Ali as a residential and lifestyle destination of choice.
Rasha Hasan, Chief Commercial Officer of Nakheel, said: "We are delighted to bring Palm Jebel Ali to market at this exciting time, with the island playing a transformative role in shaping the city's future, raising the global benchmark on waterfront living and underlining its position as a world-class lifestyle destination."
Several leading international and regional architectural firms have worked to create villas which celebrate the connectivity between the indoor and outdoor lifestyles that residents will enjoy on Palm Jebel Ali. The villas will feature floor-to-ceiling windows as well as a soft and neutral palette and luxury finishes to create a tranquil atmosphere in the exclusive private frond neighbourhoods.
Health and wellbeing will be integrated into daily life on the four fronds, offering residents an active lifestyle with wide walkable streets, allowing for pedestrians and cyclists to access the beach through pocketed parks. The frond streetscape will have an emphasis on greenery and comfort, providing lushly landscaped streets with ample shading from trees.
Palm Jebel Ali is set on 13.4 sq km of land and boasts the longest coastline of any destination in Dubai.