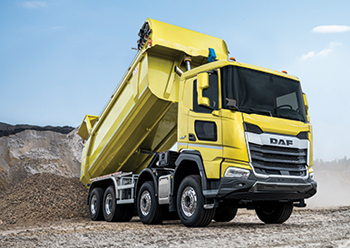 DAF has expanded its New Generation range of tractors and rigids with new construction trucks.
DAF, a leading Dutch truck manufacturing company, says it has completed its New Generation range of tractors and rigids for off- and on-road applications with the launch of new construction vehicles.
These include the new XDC and XFC units which are available in 8x4, 6x4 and – for the first time – 4x2 axle configurations.
DAF has also introduced the entirely new XD and XF Extra Robust series that combines the robust cabs of the XDC and XFC with an on-road chassis for operators in the construction and municipal segments who value the lowest vulnerability but do not need full off-road capabilities.
"The New Generation XD, XF, XG and XG+ trucks have transformed the transport industry, setting new standards in efficiency, safety and driver comfort," says a spokesman for the company. "The XF, XG and XG+ were awarded 'International Truck of the Year 2022' whilst the XD received this prestigious recognition for 2023. The unique DNA of these multiple award-winning vehicles is now also introduced for the construction and vocational sectors with the next group of models released in the New Generation truck programme."
XDC and XFC
The New Generation XDC and XFC construction vehicles are distinguished by the dominant black grille and a robust steel bumper, steel radiator protection plate and two maintenance-free LED fog lights – deeply recessed in the bumper for maximum protection. A flexible lower step is available as an option.
The XDC and XFC have a high ground clearance of up to 40 cm and an approach angle of 25 degrees which makes them ideal for applications which require regular driving off-road.
For excellent traction under tough conditions, DAF offers its XDC and XFC trucks with a choice of double-drive, low-maintenance tandems: from a 19-tonne lightweight tandem with single reduction (SR1132T), leaf spring suspension and disc or drum brakes to 21- and 26-tonne variants (SR1360T) with single reduction, disc brakes and air suspension. For heavy and off-road applications, the 21- and 26-tonne tandem is also available with hub reduction (HR1670T).
The entire range of DAF tandem sets is also available for the new on-road 6x4 and 8x4 New Generation DAF vehicles that need superb traction and high payloads. The 6x4 and 8x4 rigids are available as XD and XF. The 6x4 tractor is available as an XG and XG+, as are 8x4 rigids with a steered trailing axle. The 8x4 heavy-duty tractor with steered pusher axle for exceptional transport applications is available as a XF, XG and XG+.
For applications that may occasionally require extra traction, DAF offers a first-class hydraulic front-wheel drive option for 4x2 tractor versions of the XD, XDC, XF and XFC. This robust and maintenance-friendly 'PXP' system can be activated via a switch on the dashboard.
The New Generation DAF trucks programme has been extended to include a full series of four-axle variants with single drive for on-road applications. These chassis versions, with steered pusher axle and/or (non-)steered trailing axles, are ideal for applications such as heavy container transport, sewer cleaning and heavy waste collection, according to DAF.
Highly efficient drivelines
The outstanding fuel efficiency performance – resulting in the lowest emissions – is the result of – among other aspects – a highly aerodynamic design and application of the latest Paccar MX-11 and MX-13 drivelines with TraXon gearbox. This automated transmission features, upon request, dedicated off-road software and 'ASR-off' as well as 'Rock-Free' functionalities for moving off in slippery conditions and to facilitate fast rocking to help extricate the vehicle in extremely tough circumstances.
All new versions for construction, municipal and other vocational applications benefit from the new safety and driver comfort standard introduced by the New Generation XD, XF, XG and XG+.
All trucks feature a large windscreen and ultra-low belt lines for exceptional direct and indirect view, which is supported by the optional kerb view window and state-of-the-art technologies such as the DAF Digital Vision System and the unique DAF Corner View. A wide suite of driver assistance systems as well as class-leading ergonomics also contribute to best-in-class safety.
In addition, the New Generation DAF trucks offer perfect accessibility, unmatched interior space and the best possible working and living environment for driver comfort, the spokesman concludes.