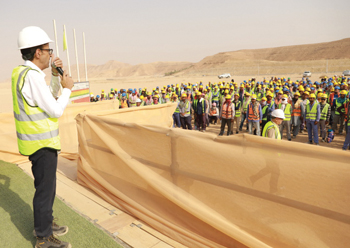 Diriyah Company marks the 30 million man-hours safety milestone.
Saudi Real Estate Company (Al Akaria) has announced that one of its key subsidiaries – Saudi Real Estate Infrastructure Company (Binyah) – has secured a contract worth SR544 million ($145 million) from Diriyah Gate Company for its Northern Cultural District (NCD) P3 Car Park Project.
As per the contract, Binyah will provide design, construction, testing and commissioning services for the 100,000-sq-m car parking facility that can accommodate 2,000 cars over four basement levels, said Al Akaria in its filing to the Saudi bourse Tadawul.
The project scope includes construction of a reinforced concrete building, MEP works, and installation of a smart parking control management system and guidance system.
The entire work will be completed by Q3 of 2025 and there will be a financial impact for the contract period from this Q1 up to Q2 2024, it added.
Meanwhile, Diriyah Company said it has achieved a major Occupational Health and Safety (OHS) milestone clocking more than 30 million man-hours with a 19,181-strong workforce across all its projects in the historic district of Diriyah, which is located in Riyadh
Diriyah, the Saudi state's birthplace and a historically rich area, is also home to the Unesco World Heritage Site of At-Turaif.
The Diriyah team had utilised more than 1,200 pieces of heavy equipment for these projects, stated the company.
The remarkable milestone reflects the company's continuous commitment to providing a safe working environment and validates the implementation of the OHS department's comprehensive measures to mitigate risks and ensure the well-being of people in the workplace, it stated.
With health and safety at the forefront of Diriyah Company's priorities, the OHS Management System provides the necessary protection for the giga-project's contractors, and employers, on-site labourers from the hazards of occupational injuries, it added.