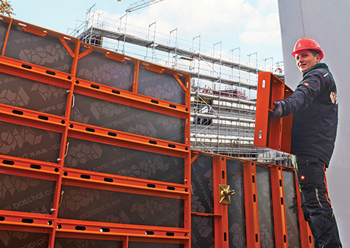 The panels of the NeoR lightweight formwork are easy to handle and offer high flexibility.
Formwork and shoring expert Paschal-Werk G Maier will be presenting its innovative and customer-oriented solutions and all-round service for projects at bauma, the world's largest construction trade fair, when will open its doors in Munich, Germany, next month (October 24 to 30).
This year, Paschal's 1,000-sq-m stand has a completely revised concept that involves an increased focus on the outside area with numerous exhibits from the Paschal product portfolio, newly divided, airy room concepts and a well-conceived ventilation and hygiene concept.
NeoR lightweight
Among Paschal's innovative products in the spotlight will be its NeoR lightweight formwork, which combines the benefits of the proven Modular/GE universal formwork and the Logo.3 wall formwork system, while offering all the features of modern lightweight formwork.
"The maximum weight of a NeoR lightweight formwork panel is just 40 kg for the 90 x 150 cm panel. It can, therefore, be assembled or moved by two people and the smaller panel dimensions are easy to manually assemble or move on the construction site without requiring cranes or other transport aids. At the same time, the NeoR lightweight formwork boasts significantly higher fresh concrete pressure absorption properties of 50 kN/sq m compared to the Modular/GE universal formwork," says a spokesman for Paschal.
Logo wall formwork
Large panels, fewer connecting pieces and easy handling are the defining features of its Logo wall formwork. Thanks to the well-balanced range of panel dimensions, Logo can be used to form any layout economically. Exposed concrete surfaces are also easy to create. The solid flat steel frame and high-quality finish make Logo one of the most durable wall formwork systems on the market, the spokesman claims.
In addition to the classic Logo.3 panels, the light aluminium formwork Logo.alu for construction sites without a crane as well as Logo.pro with formwork anchors that can be operated from one side will be exhibited in the Logo corner.
"The Logo.pro wall formwork system can easily be converted from double-sided to single-sided anchoring using a sophisticated changeover system. This means that Logo.pro not only impresses with optimised processes with fewer personnel requirements or in confined spaces, but also with its simplicity and cost-efficiency," the spokesman explains.
"The Logo tie points saver model will demonstrate to all visitors that no other formwork system can operate with so few clamping locations as Logo.3 – saving time and reducing material costs and expenses for labour on the construction site!" he claims.
Work safety
Paschal work safety systems provide both maximum safety and cost effectiveness, as their ideal handling and compliance with the highest security standards ensure a fast and problem-free construction process, according to the spokesman.
In addition to the Logo concreting platform and the Multip multi-functional working platform for straight and round wall formwork, Paschal will present the new lateral protection system Secuset at bauma 2022, which can be used for a number of different applications in formwork and other fields of work concerning shell construction or expansion.
Other innovations
Paschal will also showcase how concrete haunches or underground car park exits can be formed using the continuously variable circular trapezoidal girder formwork; numerous efficient solutions for the foundation area with Logo.3, Logo.alu, NeoR Lightweight and Modular/GE universal formwork; circular and square column formwork for effective and economical concreting without concrete bleeding; Logo.3, NeoR and Modular inside corner posts for exceptionally fast and simple forming and dismantling in shafts; and slab props in a number of different extendable sizes and classes.
Among other innovations that will be promoted is the intelligent Paschal Maturix real-time concrete monitoring system for efficient concreting processes – now with new GAIA sensors for extreme durability and even easier handling; and BIM-capable formwork planning with the software Paschal-Plan light 12.0.
In addition to the trade fair appearance at Munich, Paschal also offers an innovative VR experience at the trade fair stand. With the parallel, browser-based application, viewers worldwide can also gain an insight into the Paschal portfolio – and all from the comfort of their own home.