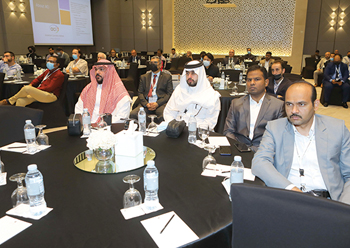 Delegates at the ACI Concrete Conference on Innovation held in March.
Following the success of the recent ACI Concrete Conference on Innovation in Dubai, UAE, and its participation at The Big 5 Construct Egypt, the American Concrete Institute (ACI) is gearing up to reinforce its regional presence further through The Big 5 show in Dubai, which will be staged in December (5 to 8).
ACI is a leading authority and resource worldwide for the development, distribution and adoption of consensus-based standards, technical resources, educational programmes, and proven expertise for individuals and organisations involved in concrete design, construction, and materials, who share a commitment to pursuing the best use of concrete.
The two-day ACI Concrete Conference on Innovation, which was held in March at the Address Dubai Mall, attracted more than 200 attendees from 12 different countries. The event brought together engineers, architects, researchers, suppliers, producers and academics from around the world to share their experiences and discuss innovative and emerging technologies for the concrete industry and the built environment.
The Guest of Honour was HE Dr Abdullah Al Nuaimi, the UAE's Minister of Climate Change and the Environment, who stated: "The ACI Concrete Conference is of great importance to both practitioners and academia."
Highlighting the importance of the theme of the conference, he added that new concrete technology, such AI-based mix designs and 3D printing, presents endless possibilities for the future of the industry and for developing more resilient and sustainable infrastructure.
Keynote speakers at the conference were ACI President (2021-2022) Cary S Kopczynski and NEx Executive Director Jerzy Z Zemajtis. Special guests in attendance included Meghan Gregonis, US Consul General in Dubai; Hassan Al Hashemi, Vice President – International Relations, Dubai Chamber of Commerce and Industry and Member of the Executive Committee of Dubai Association Centre; Yu Tao, President and CEO, China State Construction Engineering Corporation Middle East; Saad Saleh bin Shuail, Secretary General, Saudi Building Code National Committee; and Cindy Davis, President, International Code Council (ICC).
ACI opened its Middle East Regional Office in Dubai in January 2019 to focus on advancing the development, dissemination, and adoption of ACI consensus-based knowledge on concrete and its uses in the region.
Towards this end, the institute conducted a digital webinar entitled '24 Hours of Concrete' in July, which was promoted to the region.
The institute is now poised to stage its annual ACI Concrete Convention next month (October 23-27). The in-person event, which will be held in Dallas, Texas, will also offer select programmes on-demand to attendees who choose to participate remotely.
The institute last year set up NEx: An ACI Center of Excellence for Nonmetallic Building Materials. Saudi oil conglomerate Aramco became a founding sustaining member of the centre in January this year to join ACI's efforts to achieve more sustainable building solutions through advances in nonmetallic technologies.
Commenting on nonmetallic technologies, Ahmad A Al Sa'adi, Senior Vice President said: "Aramco has been developing and deploying nonmetallic solutions within our own operations for more than 20 years as they offer superior lifecycle cost, efficiency, and environmental advantages over their metal alternatives. The potential for using nonmetallic advanced polymetric materials, however, goes way beyond the oil and gas sector and includes the building and construction industries where there is significant potential. That is why this new Center of Excellence for Nonmetallic Building Materials offers enormous and exciting opportunities."
Aramco is already a leader in the use of nonmetallic materials, deploying nonmetallic solutions within its oil and gas facilities for more than two decades.
NEx: An ACI Center of Excellence for Nonmetallic Building Materials focuses on accelerating the use of nonmetallic materials and products in the building and construction sector. With industries such as oil and gas, construction, automotive, packaging, and renewables beginning to explore nonmetallic materials, NEx is seeking global collaboration to drive education, awareness, research and technology adoption of nonmetallic building and construction materials.