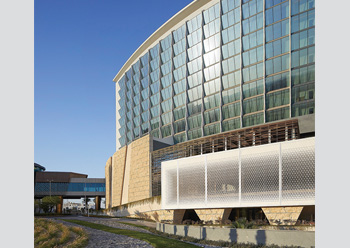 The hotel's exterior design complements the curvilinear design aesthetic of the 360 Mall extension.
Work is nearing completion on the 302-room Grand Hyatt Kuwait hotel being developed by Tamdeen Group in Kuwat city. The prime hospitality project, conceptualised by CallisonRTKL, a global architecture, design, and strategy firm, is set to open its doors in September.
Distinctive in its design and grand aesthetic, the hotel seeks to position itself as an urban sanctuary within a larger destination – the 360 Mall Kuwait development – that has a unique story to tell, according to CallisonRTKL.
The hotel's design was conceptualised to seamlessly integrate into the context of the surroundings, complementing the established architectural lines, visually and functionally, while still making a distinct architectural statement all on its own.
As the tallest building in the area, the nine guestroom floors offers unobstructed views from every angle.
One of the property's most distinguishing design features is its curved design, conceived and executed in lieu of a traditional rectangular outline to allow for a more natural and harmonising integration into the existing architectural landscape, it stated.
On the inspiration and motivation behind the project, hotel designer Dustin Wekesser, Associate Principal at CallisonRTK, said: "The entire 360 Mall Kuwait development is a fantastic project with many great entrances and influxes, but as an architectural team, we wanted to make Grand Hyatt Kuwait feel more exclusive and opulent, to set it apart on an entirely different level of luxury. During the conceptualising phase, we thought a lot about scale and how guests would perceive their arrival from multiple distances and reviewed several levels of detail to achieve this.
"The hotel is clean and bold from a distance, featuring details that are angled and large enough to be observed from the main roads. However, as a guest approaches the hotel, the details get smaller and more intricate, creating a dynamic and vibrant play of patterns, shadows, light and textures."
The hotel's exterior design complements the curvilinear design aesthetic of the 360 Mall extension with a series of layers that splay out with unique characteristics. These multiple design features are focused on achieving an environmentally responsive building – inspired by and adapted for the local climate and culture.
The 302-key luxury urban escape, with its impressive and majestic architectural design, aims to set itself apart with signature guest experiences which forms an integral part of the country's most immersive luxury social and lifestyle complex, CallisonRTKL stated.
Impetus for the design of hotel's signature exterior derived from the date palm leaf, with specific attention given to the branches of the palm and their ridged shapes that provide the narrative for structure and shade.
Grand Hyatt Kuwait encapsulates several elegant and timeless multi-faceted event spaces, each dynamically configured to make every occasion unforgettable – and as exceptional as the location itself. The hotel boasts a striking multi-purpose Grand Ballroom, with a hosting capacity of up to 1,560 guests.