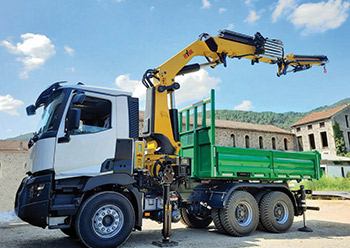 An endless slewing model from the 40-tm range of cranes.
Hyva has boosted its highly successful Edge Line with the addition of the 40-tonne-metre (tm) class of truck-mounted cranes, which offer a first-class lifting experience, cutting-edge innovation, and the best available warranty in the industry – three years general warranty and five years on structural parts, says the leading global provider of innovative transport solutions.
The 40-tm family comprises five models which have a double linkage system: three rack and pinion with a 430-degree slewing angle; and two endless slewing models which feature slewing bearing.
The cranes have from two to eight extensions, 8.02 to 20.9 m maximum outreach, and 10 m jib (not available for K-boom and marine versions).
Innovative features of the cranes the increase operator efficiency and safety include:
• Magic Touch (MT), which allows the driver to open the crane from transport position and back, at the touch of a button;
• Dynamic Load Diagram (DLD), which optimises stabilisation and allows the driver to verify in advance the crane lifting capacity based on truck stability; and
• DLD Simulator, which shows the operator the possible working area for different scenarios of load and stabiliser extension before use.
Operating performance is maximised with all the standard features of the tried-and-tested Edge range, says the Netherlands-based company.
These are articulated stabiliser feet for better stability, safety, and longer cylinder life; hoses and pipes running inside the stabiliser beams to guarantee a longer lifetime; Extra Extension Speed (EES) to increase the speed of extensions without compromising safety; Smooth Descent System (SDS) to reduce oscillation and assure perfect control; and a Liftrod Articulated system (LAS) to improve versatility in many different working positions.
Other features include soft closing retraction to reduce oscillation of the load during retraction; centralised greasing system, making regular maintenance easier; high-pressure filter; stability control system; and manual control and a wide range of radio controls.